Best Replacement Chargers for the Garmin Vivosmart 4 in 2020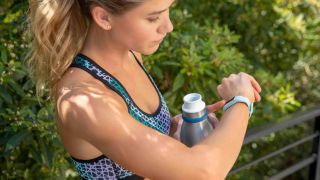 (Image credit: Garmin)
Garmin's impressive vivosmart 4 offers a really decent seven-day battery life, but let's face it — it's just a useless bracelet once the power runs down. Make sure you can keep your favorite smartwatch powered up with our selection of replacement chargers, alongside a few other options that can keep your vivosmart 4 juiced 24/7 wherever you are.
(opens in new tab)
Tusita USB Charging Cable Clip Cradle
Cradle clip

This simple option is a durable black charger with a reach of 3.3 feet and a clip design that goes around the Garmin smartwatch. It's compatible with any device with a USB port but can prevent your vivosmart 4 from being damaged by excess current when hooked up via USB.
(opens in new tab)
Compact clip

This is an even more compact replacement charging cable option for your Garmin smartwatch, so it is ideal for travelers or commuters. Measuring in at 3.3 feet, it works with any USB ports capable of charging and also offers protection against power surges.
(opens in new tab)
Kissmart Two-Pack of Chargers
Double up

This is another clip-based design option. A two-pack, you can enjoy the convenience of having a second charging option at home, a charger at work, or keep one as a spare if you really, really don't want your vivosmart 4 to power down.
(opens in new tab)
Anker Dual USB Car Charger
Power on-the-go

Getting into the habit of charging your vivosmart 4 in the car makes sense as you shouldn't be looking at it while you're driving anyway. This two-port USB charger from Anker is an affordable in-car solution that is compact and has an LED light.
(opens in new tab)
RAVPower USB Portable Charger
Portable power

If you're going to be away from ways to power up your vivosmart 4, consider investing in a portable charger. Once fully charged, this can power up an iPhone more than four times, so imagine how many charges it will provide your small smartwatch.
Power play
Our selection of accessories here for Garmin's popular vivosmart 4 will ensure that whether you're home, at work, or even away, as long as you can access a USB charging port, you'll always have a handy way to charge up your precious smartwatch. With the RAVPower USB Portable Charger (opens in new tab) you can even take a power supply with you.
Our overall staff pick, the Tusita USB Charging Cable Clip Cradle (opens in new tab) has an affordable price tag, a simple and clean design, a decent reach of 3.3 feet (around one meter), and is an exceptionally durable choice.
If you're looking for a compact and lightweight charger that will easily fit into your bag and add minimal excess weight, the Exmrat Clip USB Charger (opens in new tab) works great. It weighs in at just 0.8 ounces, and if you're the knot-tying type, it can quickly be wrapped up for portability during transport.
Amy-Mae has been writing about consumer technology since before the iPhone was even a twinkle in Steve Jobs' eye. She started out in magazine publishing with the UK lads' mag 'Boy's Toys' then moved online with startup Pocket-lint.com as the first full-time member of staff, helping grow the site to one of the UK's largest gadget sites. Amy-Mae then moved to Mashable when it only had a staff of around 10 people. After working her way up to a senior role there, Amy-Mae left in 2014 to have her daughter. Since then Amy-Mae has continued to contribute to Mashable and The Daily Dot, keeping up-to-date with the latest consumer technology and social media trends. For iMore.com, Amy-Mae gets to her explore her love of home cooking, concentrating on all things kitchen tech.
Get the best of iMore in in your inbox, every day!
Thank you for signing up to iMore. You will receive a verification email shortly.
There was a problem. Please refresh the page and try again.