Best Running Shoes For Women 2022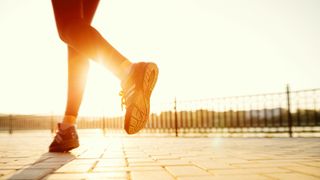 (Image credit: Arthur Hidden / Freepik)
We know that ladies have different needs when it comes to choosing the best running shoes for women, but there are a few things that can be considered unanimous across the board: cushion and comfort. Running is an extremely meditative sport. You get to block out all distractions and connect with your deeper self. That's why we want to keep you running in comfort and style. Whether you're running on the road or the trails, these are the best running shoes for women and why you'll love them.
Ladies' choice
Running is wonderful, but the impact is tough on your joints, that's why we felt it important to find the best running shoes for women out there. We love the Hoka One One Bondi 6 (opens in new tab) for the wonderfully cushioned, extremely comfortable ride. This game-changing shoe is the most cushioned in the Hoka One One lineup. Providing Hoka's most advanced technology, these shoes give a smooth, balanced ride delivered by the full-EVA midsole, the comfortable and breathable upper, and their "Meta-Rocker" technology. They deliver a consistent ride for all distances and quite literally feel like you're running on clouds.
If you're looking for something a little less padded but still comfortable, try the Asics Gel Venture 7 (opens in new tab). Or maybe something flashy and fashionable is more your speed? The Saloman XR Mission (opens in new tab) and the Nike Roshe One (opens in new tab) will steal the show.
No matter what your running needs are, these top contenders are the best running shoes for women when considering aesthetics, comfort, and cutting-edge technology, enabling you to look and feel your absolute best when hitting the trails or the pavement.
Nicolette is a freelance writer for iMore. With over a decade of high-level experience as a health and fitness professional, Nicolette has become an expert in the industry. As a writer, quadruple-certified master fitness instructor, DJ/MC, and mom; she's had the pleasure of working with some of the top websites, studios, and brands in the world throughout her career. A dedicated creative, Nicolette enjoys writing about all things: health, fitness, audio, and home. If she's not working, you can find her sipping a glass of wine, enjoying a concert, or hanging with her family.
Get the best of iMore in in your inbox, every day!
Thank you for signing up to iMore. You will receive a verification email shortly.
There was a problem. Please refresh the page and try again.