Best safety gear for running in the dark 2022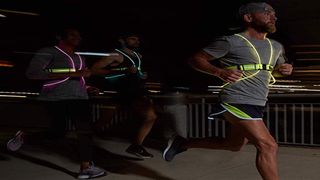 (Image credit: Noxgear)
Running is a wonderful workout that provides a myriad of health benefits. You can monitor how these benefits directly affect your health by tracking your runs with one of the best fitness trackers, like Apple Watch Series 6. Sometimes busy schedules get the best of our daylight hours, and we find ourselves working out in the dark. If you love to run at night. It's a good idea to illuminate yourself so you can be seen. Stay safe, and light it up every step of the way with the best safety gear for running in the dark.
Be seen
Whether you're jogging in the wee hours of the morning or you're running at night, let's ensure you're safe and seen. Light yourself up with the Noxgear Tracer360 Reflective Vest, which features six solid LED colors and three different, eye-catching, multi-color illumination modes.
If you're looking to light up your running shoes, check out the rechargeable Night Runner 270 Shoe Lights — they offer up to five hours of run time. Or maybe you'd like a runners' headlamp? The Hoxida Rechargeable Runners Headlamp weighs less than two ounces and offers up to 500 feet of visibility. If you're going to work out at night, make sure at least one part of you is glowing with some of the best safety gear for running in the dark.
Nicolette is a freelance writer for iMore. With over a decade of high-level experience as a health and fitness professional, Nicolette has become an expert in the industry. As a writer, quadruple-certified master fitness instructor, DJ/MC, and mom; she's had the pleasure of working with some of the top websites, studios, and brands in the world throughout her career. A dedicated creative, Nicolette enjoys writing about all things: health, fitness, audio, and home. If she's not working, you can find her sipping a glass of wine, enjoying a concert, or hanging with her family.
Get the best of iMore in in your inbox, every day!
Thank you for signing up to iMore. You will receive a verification email shortly.
There was a problem. Please refresh the page and try again.