Best Sleep Noise Machines 2020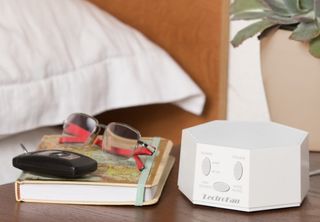 Seven to eight hours of sleep is recommended, but for all the insomniacs out there, that's a tough goal to reach. Whether you can't sleep because of your noisy neighbors or it's just too quiet in your house, a sleep noise machine might be exactly what you're looking for. We've chosen the best for white noise, natural sounds, and one machine that does it all to help you (hopefully) get your full eight hours.
Sweet dreams are made of this
Sleep noise machines help millions of men, women, and children fall asleep every night. Whether you want to mask annoying sounds from outdoors, create a soothing soundscape to drift off, or make a wall of white noise to protect your little one's precious sleep, we've got a solution that can help. If you only struggle to sleep when you're away from home, consider an affordable portable option like the MyBaby Soundspa On-The-Go (opens in new tab). It's a simple battery-powered option that's perfect for travel.
Both white noise and nature sounds are great for falling asleep, but with the addition of city noises and more, the Sound+Sleep (opens in new tab) is our favorite. While others may have their own unique sounds, the number of choices in the Sound+Sleep are too great to pass up.
Amy-Mae has been writing about consumer technology since before the iPhone was even a twinkle in Steve Jobs' eye. She started out in magazine publishing with the UK lads' mag 'Boy's Toys' then moved online with startup Pocket-lint.com as the first full-time member of staff, helping grow the site to one of the UK's largest gadget sites. Amy-Mae then moved to Mashable when it only had a staff of around 10 people. After working her way up to a senior role there, Amy-Mae left in 2014 to have her daughter. Since then Amy-Mae has continued to contribute to Mashable and The Daily Dot, keeping up-to-date with the latest consumer technology and social media trends. For iMore.com, Amy-Mae gets to her explore her love of home cooking, concentrating on all things kitchen tech.
Get the best of iMore in in your inbox, every day!
Thank you for signing up to iMore. You will receive a verification email shortly.
There was a problem. Please refresh the page and try again.