RIP iPad Pro Silicone Case — protect it with a sleeve instead!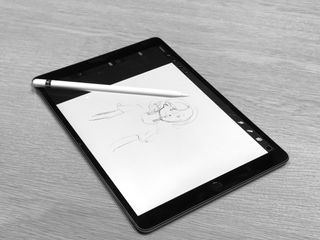 For its first-generation iPad Pros, Apple provided a number of accessories, including a silicone case that attached to the back and had a cutout for a Smart Cover or Smart Keyboard. Unfortunately for fans of that case, it appears that Apple has elected not to produce a version for the 10.5-inch iPad Pro and has even discontinued the 12.9-inch version.
Third-party options in this area for a thin and light case that protects the back of your iPad are still few and far between for the 10.5-inch iPad Pro. In the meantime, while manufacturers gear up and prepare new products, we recommend using a sleeve. While not as convenient as a case that supports Apple's Smart Keyboard, sleeves, available from Apple and a number of other manufacturers, offer light, portable protection for every side of your iPad.
Here are some sleeves that you might want to consider while you wait on third parties to create Smart Keyboard-compatible back cases for the 10.5-inch iPad Pro.
Apple Leather Sleeve for 10.5-inch iPad Pro
Why you can trust iMore Our expert reviewers spend hours testing and comparing products and services so you can choose the best for you. Find out more about how we test.
Apple offers its own sleeve for the iPad Pro line. The sleeve is made of leather, with a microfiber lining on the interior to protect your iPad's screen from scratches. In addition to your iPad, the sleeve also features an integrated storage space for your Apple Pencil, though it seems to be a little too snug for the Smart Keyboard.
You can get the leather sleeve in four color options: saddle brown, taupe, midnight blue, and black. The leather sleeve is available from Apple for $129.
See at Apple (opens in new tab)
DODOCase Durables Sleeve for 10.5-inch iPad Pro
Meant to offer durable yet slim protection, DODOCase's Durable Sleeve features a waxed canvas outer layer, combined with a middle layer of recycled felt and a cotton twill liner. The interior is spacious enough to accommodate a Smart Keyboard in addition to your iPad Pro. The Durables Sleeve comes in three colors: sage, midnight, and navy.
You'll find the Durables Sleeve at DODOcase for $69.95.
Waterfield Dash Sleeve for iPad Pro
Shipping on June 30, Waterfield's Dash Sleeve for iPad Pro is meant to hold an iPad Pro with a Smart Keyboard attached. Your iPad is held in place by a sturdy strap across the top, which you can easily unsnap to gain quick access to your tablet. The case comes in black ballistic nylon, blue, green, grey, and red color options.
Pre-orders are now open for the case at Waterfield for $89.
Waterfield iPad Pro SleeveCase
A more heavy-duty option from Waterfield, the SleeveCase offers most of the convenience of a sleeve but with a little extra protection and a few more features. With an outer shell of either ballistic nylon or tan waxed canvas, the SleeveCase features an easy-to-open flap that lets you quickly store or remove your iPad Pro. It also features a couple of different thin pockets that allow you to store your Apple Pencil, and there's room in the SleeveCase for not only your iPad Pro, but the Smart Keyboard, as well.
While it won't start shipping until June 23, you can order the SleeveCase now starting at $69. For $5 more, you can add D-rings for a strap, while for $22 more, you can get a suspension strap included.
Your favorites
Have you found another sleeve or protection solution that you love for your new 10.5-inch iPad Pro? Let us know down in the comments.
Get More iPad
(opens in new tab)
Joseph Keller is the former Editor in Chief of iMore. An Apple user for almost 20 years, he spends his time learning the ins and outs of iOS and macOS, always finding ways of getting the most out of his iPhone, iPad, Apple Watch, and Mac.
How can you protect with a sleeve while using the iPad? At least with the silicon case it would give some kind protection from scratches, dings while using the iPad. Sleeve is more like when you are carrying the iPad so its not a direct replacement for the silicon cover. Hopefully we will see good replacements soon.

No thanks. I've elected to keep my 9.7" Pro until they come out with a silcone back. Beyond the protection--for the iPad and my desk that it is on--it just feels better. The back is too slippery without it. This decision by Apple makes no sense. Many people are asking where these accessories are. We need a back cover to work with the smart keyboard cover. The aftermarket stuff is junk and based on Amazon reviews it seems like they are also not compatible with the smart or keyboard covers. The other issue with a sleeve is that it is a perfect accessory to lose. I could see leaving it on a plane or a train; I travel often and always use my iPad when I do. The current configuration of the keyboard and back cover works great for me, and based on comments I'm reading here and elsewhere, worked great for many other users, too. I had the 10.5" iPad and keyboard in my cart ready to go on the day they went on sale. I stopped ordering when I could not find the cover for the back.

I believe the aluminum going forward for these is that series 7000; same aluminum used for the iPhone 6S and later, Apple Watches, and so forth making them very durable. At home I don't use a back case, and some of my tables are relatively dusty and have yet to scratch the back (Surface Pro on the other hand... well its covered with a skin on it's back now). Don't think it's as important but still I'd like to have some drop protection.

So spend $879 and then spend $129 on a "Protective" sleeve that isn't probably going to protect the device I spent $879 on before taxes?? Yeah. . . Nah!! Eventually the market will expand.

Gotta agree, sleeve is just not a good replacement. I got a jet until something better comes out. Apple Smart Cover is sitting in the box waiting for an acceptable back cover. Anyone get the Logitech and see if Smart Cover fits when keyboard is removed? Hoping that will work.

Just received the Waterfield iPad Pro Sleeve Case with all the options an it's a beaut! Gary & the Team make some of the finest cases that marry great design & with functionality, as well as quality. Love it!

Well, that's a disappointment, and you can't use your device when it's in your recommended protective alternative. No thanks.

I'm using the silicon case from my old 12.9 iPad Pro, there is no way i would use it without some form of case to protect it when i put it down on stone tables outside etc

The silicon case is useful, its thin, its stops the iPad from sliding around, and making a noise when putting it down on a hard surface, makes it easier to pick up, as well of course protection from dings and scratches. The sleeve is not a replacement and 3rd party stuff are not as good. Really strange decision from Apple.

I never use a sleeve in the back. I've always found the backs of iPads to be very scratch resistant and I just prefer the naked feel.

I bought the (black) Apple Leather Sleeve for my 10.5-inch iPad Pro. I really like the Apple sleeve (aside from the price), but I would have purchased an aftermarket sleeve if there were better options available. I used an Inateck soft felt sleeve for my 9.7-inch iPad pro that I picked up on Amazon for around $15 and it served me well. Unfortunately, it doesn't fit the 10.5" iPad Pro so I'm hoping they make a larger size so I can return the Apple sleeve. I don't like covering up the of my iPad so the combination of my smart cover or smart keyboard, along with Apple leather sleeve works well for me.

I had a case for my iPad Air that I stopped using a number of years ago, only because I used to be always buying cases. I ordered a case from Amazon for my 10.5" Pro, but didn't realize until it was shipped that it was coming via China Post. So I could be awhile till I get it.However my Pro JUST fits into my old Air case. And to boot it came with a stylus holder, which if I keep the plastic wrap on my brand new Apple Pencil, the stylus holder holds the Pencil perfectly. At least until my new case comes in and I have to find a new way to not lose my Apple Pencil, because at $145 Canadian with tax, I'll be pi**ed if I lose the Pencil.

Weird. In my mind, a sleeve is not a case. A case protects during use, a sleeve between uses. Just my opinion of course.

I don't understand Apple's thought process on this one. They seem to think if we are going to type a lot on the iPad then we will need a physical keyboard vs the on screen keyboard. I bought the Smart Keyboard for the 12.9" Pro when it first came out. Used it about three times then ditched it. Didn't like the added bulk. If I wanted a physical keyboard on my iPad 10.5.....I'd buy a MacBook instead.

I basically hate my new iPad because no silicone case. It's super hard to hold without it.
Thank you for signing up to iMore. You will receive a verification email shortly.
There was a problem. Please refresh the page and try again.