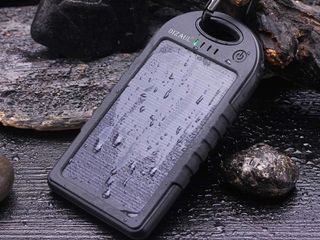 (Image credit: Dizaul)
Whether you're hiking the backwoods or need some power in an emergency, solar chargers are a reliable way to charge up your cell phone, tablet or laptop. It will take twice as long to charge your devices, and you will be reliant on how much the sun is shining, but in a pinch even a little bit of juice is helpful. The best solar chargers include a battery pack to store enough power to charge your devices later. Several chargers will let you charge more than one device at a time. Most have some sort of clip that attaches to your backpack to help it capture solar power as you hike, so it's ready when you need it.
Our final thoughts
We think the FEELLE Solar Power Bank (opens in new tab) is the best because of how quickly it charges your devices, the number of devices it powers up at one time, and the amount of power it holds. Because of the two included batteries, this charger stores enough power to charge and recharge your cell phone multiple times before the unit itself needs to be recharged. On top of being designed to withstand a lot of bumps and falls, this solar charger also has a clip to attach to your backpack, so it can recharge itself while you hike, bike, or enjoy other outdoor adventures.
The BigBlue (opens in new tab) solar charger works differently than the other chargers because it doesn't store power. Instead, it uses its panels to convert solar energy and directly charge your devices. If the sun isn't out, you don't get a charge. Its 10-panel foldable design makes it easy to tote along with you and provide enough power to charge a camera or laptop.
Nicole writes for multiple Future Publishing brands covering topics from antivirus to kitchen appliances to SAS. She has over 15 years of research and writing experience, including eight years of testing and reviewing consumer products. Nicole earned bachelor's degrees in both English and Political Science with a focus on empirical research. In her spare time, Nicole serves on several school councils and volunteers for a local arts board.
Thank you for signing up to iMore. You will receive a verification email shortly.
There was a problem. Please refresh the page and try again.