Best Holiday Gifts Under $30 for Apple Fans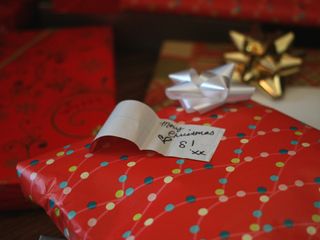 Whether you're a Will Ferrel Elf or a Jim Carrey Grinch during this holiday season, there's something ever so magical about giving and receiving kick-ass gifts!
Stocking stuffers are a great way to not spend a crazy amount of money while still delivering some pretty awesome and functional presents. Plus, if you're an Apple lover, there are a bajillion accessories out there that you can pair with your Apple arsenal!
Here are a few radical holiday gifts that you can shove in your friend's and families (and even your own) stocking for under $30!
Aukey Ora Wide Angle x Macro lens
Why you can trust iMore Our expert reviewers spend hours testing and comparing products and services so you can choose the best for you. Find out more about how we test.
Forget capturing your holiday memories on just any ol' iPhone camera and pick up the Aukey Ora Wide angle and Macro lens as a stocking stuffer surprise!
This little lense is made from incredibly high-quality glass to provide crisp, clear, DSLR-level photographs. Simply attach the lens to your iPhone, iPad, or even your MacBook's webcam, and you'll be good to shoot from stunning wide-angle or macro points of view.
The Aukey Ora comes with two lenses, a 15x macro and a 120 degree wide angle. Normally lenses like this for your DSLR could cost hundred (if not thousands) of dollars, but with Aukey, you'll only be spending around $30.
See at Amazon (opens in new tab)
ALOOK Lightning Port Adapter
Designed to enable both charging and the ability to listen to music, the ALOOK Lightning Port Adapter is the perfect little tool to pop in the stocking of anyone with an iPhone 7, iPhone 7 Plus, iPhone 8, iPhone 8 Plus, or iPhone X.
With the loss of the headphone jack, a lot of people were concerned that they would be unable to charge their iPhone 7, iPhone 7 Plus, iPhone 8, iPhone 8 Plus, or iPhone X while listening to music. The ALOOK does just that, and is built with a high quality aluminum that's as reliable as it is sturdy and lightweight.
There are only two colors to pick from for this adapter, and that's a basic white and black, but for under $10? Why not pick up two?!
See at Amazon (opens in new tab)
Nomad Lightning Key
Keep your lightning cable close at all times without the mess of a long, tangly cord thanks to this Nomad Lightning key that attaches right to your keychain!
This little 3-inch lightning-to-USB cable is the perfect tool to always have at your side. Whether you're charging your iPhone on the go, quickly transferring photos, or everything in between, the Nomad is truly a handy-dandy little sidekick.
You can pick up this highly-rated lightning key for the holidays for around $30.
See at Amazon (opens in new tab)
Easy Macro Cell Lens Band
Get up-close and personal with all the tinsel, turkey and thanksgiving decor in your house with the Easy Macro Cell lens band from Photojojo!
All you have to do is secure the band around your iPhone, make sure the macro lens is lined up with your camera lens, get nice and close to whatever you're looking to shoot, and snap your photos easy-peasy.
This macro lens produces incredibly vivid, sharp, and bright photos with incredible details, and for only $15, you'll feel like you're really getting some bang for your holiday buck!
PNY T2200 PowerPack
Keep a charge in your back pocket with the super handy PNY T2200 PowerPack!
This little pack proves that big things come in small packages: simply plug in your iPhone and your battery will start to recharge in an instant (and if it doesn't, don't sweat it – PNY comes with a 3-year warranty and 24/7 tech support).
Not only is this under $12 power pack a great tool to have around constantly, but it also comes in a ton of fun colors like hot pink, navy, black and white.
See at Amazon (opens in new tab)
Retro Edition iPhone case
Sometimes the best thing you can do for an Apple lover is give them a bit of a throwback — and what says retro more than these #throwback cases from Red Bubble?
You can sport your iPhone with a cracked back, the classic Macintosh blue see-through design that captivated every 90s movie, or that all-too-familiar beige and rainbow logo that took the world by storm when Apple first launched!
The best part? These cases are pretty protective and will only cost you around $23.
See at RedBubble (opens in new tab)
Belkin 3-Outlet SurgePlus Mini Travel Swivel
If you're looking for a portable charging device that goes above and beyond the call of duty, then we suggest considering the Belkin 3-Outlet SurgePlus Mini Travel Swivel as a stocking stuffer extraordinaire!
After you plug in your SurgePlus swivel, you can twist and adjust the power-bar to fit into any room or tight-spot you need. The bar comes with three standard wall-plugs so you can get more space without the extra cables, along with two powered USB ports for quick-charging.
While most fancy wall plugs can get a bit pricy, you can pick up the Belkin SurgePlus for around $14. If that isn't a Santa Claus steal of a deal, I don't know what is, tbh.
See at Amazon (opens in new tab)
So… What's going in your stocking this holiday season?!
Is there a righteous piece of tech that's definitely going to be hanging from your mantel this year?
Let us know what it is in the comments below so we can check it out!
Update December 2017: This article has been updated with the best options out there! Happy holidays ❤️
Get the best of iMore in in your inbox, every day!
Cella writes for iMore on social and photography. She's a true crime enthusiast, bestselling horror author, lipstick collector, buzzkill, and Sicilian. Follow her on Twitter and Instagram: @hellorousseau
That Onway adapter doesn't have very good reviews on Amazon. Too bad because I was going to buy one.
Thank you for signing up to iMore. You will receive a verification email shortly.
There was a problem. Please refresh the page and try again.