Hands-on: Best stylus pens of 2014!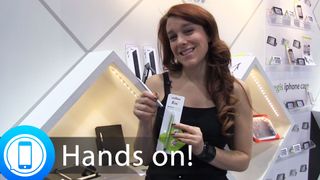 Just before #CESlive ended, I ran back and took a look at all the stylus pens that were being shown off on the show floor. There's weren't any big new announcements, but I did get to go hands on with a lot of the most recent updates. I have to say, the improvements we're seeing are remarkable. Instead of dull and drab, we're getting sexy and stylish, instead of big plastic disks, we're getting fine points, instead of rubber nibs, we're getting interchangeable brushes, and instead of dumb, dead pens, we're getting Bluetooth 4.0 LE-based pressure sensitivity and palm rejection. And 2014 has only just begun!
We'll be putting all of the latest, greatest stylus pens head-to-head again this year, but for now, check out the video and let me know — does the idea of a stylus appeal to you? And if so, which one is your favorite?
Get the best of iMore in your inbox, every day!
Senior Editor at iMore and a practicing therapist specializing in stress and anxiety. She speaks everywhere from conferences to corporations, co-host of Vector and Isometric podcasts, follow her on Twitter @Georgia_Dow and check out her series at anxiety-videos.com.
I'm getting both the Adonit Jot Script, and the brush pack for the Pogo Connect. Apple putting a digitizer into the iPad is the only way to get proper stylus support, but until then, it's amazing to see what Adonit, Ten One, and everyone else is managing to do. (No bling for me!)

I know its not 'writing' specific, but the Pencil by FiftyThree should definetly be an option.

Yeah, we didn't see them at CES, but it's definitely one to watch. How are you liking it?

Too bad we didn't see them at CES. I have tried one a while ago and it was nice we should take a look at their newest models to see how they hold up

I was pleasantly surprised with the Jot Script. Even though the features don't work with Paper 53, its still a good stylus to draw with. Love the fine point. And its amazing in Note Shelf. I am going to buy the 53 Pencil when the Walnut is back in stock. Apple, please add a digitizer to the iPad. I played with a Surface and loved the hand writing recognition.

I'm interested in getting one now.

Hey Rene, I got the Jot Script about a month ago and I've been using it with my iPad as an exclusive replacement for my MacBook and Pen/Paper setup for school. It's taken some getting used to, that's for sure. But the thin-tip makes it easily the best stylus for the iPad so far in my opinion. Sure the price is steep for a stylus, but it does work great once you learn how to use it.
I would love to see more support for this pen in different apps, Penultimate seems to rock the pen best so far. Sent from the iMore App

I'd love to see a full review of the Adonit Jot Script. That one looks like it has real potential.

Always love your reviews Georgia. I already own a WACOM bamboo stylus for writing and truglide for highlighting scripts. I didn't want the 1st Adonit because some reviewers said the tip scratched the screen. But i think I will give the Adonit Jot Script a try. Thanks for the review...

Yes it works really well and I love the thinner tip. It's wonderful to have such precision When writing

The absolutely best stylus pen of 2014 is the one that comes in the box with a Microsoft Surface Pro 2 :-)

I finally saw the Surface Pro 2 at the Microsoft Store. I was flabbergasted by how thick it was. They should market it as a next-gen laptop evolution.

Seeing the Surface Pro 2 is one thing, actually spending some time with it is another. It can be the right tool depending on your needs -- a very nice one. So is an iPad, I have one of those also, both are great. To dismiss one based on a visual assessment is just plain ignorant ;-)

Great review of the the different stylus pens. All the stylus are excellent in each special way. I really want the Adonit Jot Script. Sent from the iMore App

I like the Adonnit. But $75? Seriously?

Yes it is a good bit of cash but the tech that is in the pen so that it writes so effortlessly and without the need for a large tip is pretty worth while if you write or do a lot of art on your iPad or iPhone. If thats too much get a non blue tooth stylus and it is less expensive but you get the larger tip or the plastic tips and they are non capacitive.

I do have the Jot Pro, I got it at Target for $30 some time ago, and that's about my limit for a pen. I'd spend $75 for a good keyboard case, if I currently had that much to spend on one... :) Not sure I understand you saying that it's "non capacitive". Capacitive is the tech for the current touchscreen model, isn't it?

Sorry I meant pressure sensitive. The harder you press the more "ink" on screen, lighter less.

Have you noticed that all of those demos are on older iPad models that don't have Apple's thumb rejection that compensates for the thin bezels? I find that when i use styli on the new iPad models they aren't quite as responsive when your hands aren't near the device.

I like the Adonit Jot Script. I could use it for fine drawing /sketching and for signatures with my work.
Thanks for the review, Georgia.

Pencil by 53. No others can compete, sorry you didn't get to try. Sent from the iMore App

After using an Adonit Jot Pro for more than a year, and reading many users complaints that the Jot a Script just wasn't working well for them ( even within Evernote ), I purchased the Jot Touch for $74 on Amazon. Couldn't be happier!

No love for Wacom's intuos creative stylus? They advertised it as being for the artist and pressure sensitive. I haven't tried it yet, but I'm surprised it didn't make the list. Especially for all the people saying that iPad is missing pressure sensitivity. Sent from the iMore App

From the choices above, I'd say I would choose the Adonit Jot Script hands down. I'm not much of artist or even doodler, but I can see myself doing it more if I can get my hands on one of these awesome styluses (styli?).
Also, try saying sexy stylish stylus 10 times fast. XD

u r very beautiful girl its ture

I recently purchased a fine point stylus pen with Silicone grip for my kindle fire from here serenestylus.com. No doubt, this mentioned adonit looks perfect, definitely gonna buy this one for my iPhone but just worried about some, "not so good" reviews on amazon.