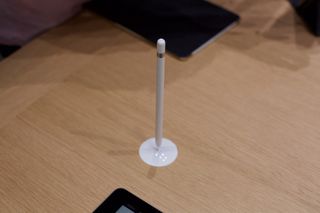 The stylus market is gigantic: It's full of pens with rubber, mesh, plastic, and disc nibs; some have special features — like palm rejection or pressure sensitivity — that require specific iPad models, while others can be used on any of Apple's multitouch surfaces. If you're in the market for a stylus, which are the best ones out there? Here are my favorites.
Apple Pencil
Why you can trust iMore Our expert reviewers spend hours testing and comparing products and services so you can choose the best for you. Find out more about how we test.
For the absolute best drawing and writing experience with the iPad Pro, you can't go wrong with the $99 Apple Pencil. It's sensitive to both pressure and tilt, letting you vary your line weights and shading in different apps. It also provides the best palm rejection technology we've ever seen for a stylus, letting you rest your hand on either the 9.7- or 12.9-inch iPad Pro screen with ease. Underneath the Pencil's magnetic cap is a Lightning connector for easy pairing and quick-charging with your iPad; you can also connect the included adapter to charge fully via USB. The Pencil provides 12 hours of continuous battery life on a full charge, and is the best stylus you can get for the iPad Pro.
See at Apple (opens in new tab)
Adonit Mark
If you don't have an iPad Pro, or you don't need pressure sensitivity and palm rejection, the $12.99 Adonit Mark is a comfortable (and inexpensive) option for writing, drawing, and sketching. The mesh-based round stylus doesn't have the fine-control movements or app integration of the Pencil, but it still works well with most multitouch screens and provides enough resistance to write well without many aberrations. The triangular grip sits nicely like an old charcoal stick in the hand, and though you can't put your hand on the screen, the Mark provides a good counterweight so that the nib doesn't slip on the glass screen while writing or drawing.
See at Amazon (opens in new tab)
Cosmonaut Wide-Grip Stylus
The kid-friendly $24.99 Cosmonaut Stylus is great for both doodling and writing: It features a comfortable, wide grip design that's wrapped in a soft rubber shell and nib. It shares a similar size to dry erase markers, replicating the sense of drawing on a white board, and it's great for the young and clumsy. There's no Bluetooth, charging, or pressure sensitivity here: Just unpackage and use.
See at Amazon (opens in new tab)
Adonit Jot Mini
For those who need a compact and easy to store stylus option, the $14.99 Jot Mini offers a lot of control for a basic disc-style stylus without a hefty price tag or too much weight. When capped, the Mini is only a few inches in length, but almost doubles in size when the cap is screwed on to extend the body. The disc shape makes it precise and easy to see what you're writing or drawing, though you will get audible clicking noises from the disc and it can occasionally feel a little slippery on the iPad's glass screen.
See at Amazon (opens in new tab)
Pencil by FiftyThree
Primarily designed for use with the Paper by FiftyThree app, this digital Bluetooth-connected stylus can create lines of all sizes with pressure-sensitive input and supports shading and palm rejection, too. The $59.99 Pencil's brushed aluminum graphite build is extremely durable and comfortable to use, featuring a tapered tip and 14k gold plated sensors on each end for an accurate reaction. You can even flip it over to use as an eraser.
See at Amazon (opens in new tab)
Updated December 2017: We took a look at a few new styluses in 2017, including the Wacom Bamboo Sketch, but our major picks remain the same. The Apple Pencil is still our top pick for iPad Pro users.
Get More iPad
(opens in new tab)
Get the best of iMore in in your inbox, every day!
Serenity was formerly the Managing Editor at iMore, and now works for Apple. She's been talking, writing about, and tinkering with Apple products since she was old enough to double-click. In her spare time, she sketches, sings, and in her secret superhero life, plays roller derby. Follow her on Twitter @settern.
According to Tim Cook, the Apple Pencil isn't a stylus. He said: "Well, we didn't really do a stylus, we did a Pencil. The traditional stylus is fat, it has really bad latency so you're sketching here and it's filling the line in somewhere behind. You can't sketch with something like that, you need something that mimics the look and feel of the pencil itself..."

Dellusion knows no bounds...

and stylus don't do angles for larger brush strokes.. it's defiantly more related to a pencil in that regard. Pens/Styli don't change their stroke depending on angle.

Tim also said that laptops with touchscreen's are ultimately a flawed idea because the user has to reach over the keyboard to use it, you know, he's right. Everytime I use my iPad Pro with the keyboard I see just how awkward it is. The Pencil wasn't available when I bought mine so I just preordered it and than bought a Bamboo FineTouch Stylus for the interim, it's great as I can also use it through out iOS as another means of navigating the UI. When the Pencil finially came I found the experience to be almost identical when being used in apps like EverNote and OneDrive, as I'm not an artist note taking is really the only thing I would use it for however the Pencil doesn't work as a pointing device, as such I don't really use it all that much. I also returned the Apple keyboard for the Logitech model. The extra row of function keys, backlight for the keys, a much better typing experience and a better protection for the iPad Pro, made it seem like a no brainier. I also really didn't like the feel of the fabric keys. One last thing about the iPad Pro, it is not a laptop replacement. Thoughs who I think otherwise and/or are pressing others into believing this as well have no idea what their talking about. After just 30 minutes of using MS Word with the keyboard and without mouse support I was extremely dissatisfied. Also the lack of a central document management system in which all files are stored and can be access in one general location, the ability to run apps in the background, change ones default apps, limited support for dual app (only 98 apps at the time of this post support it), etc. just reaffirmed it. Th iPad Pro is still just an iPad, nothing wrong with that but I wish people would stop comparing it to the Surface Pro as there is none, completely different beasts.

Jot Dash doesn't use bluetooth.

Bamboo fine line 2 not compatible :(

Have you tested any of these? I have four Stylus (Wacom Creative, Wacome Fineline, Adobe, and 53 Pencil) and of these only the 53 Pencil works, and then only in Paper (tested in Adobe apps, Sketchbook, OneNote). These 3rd party stylus do NOT work on the iPad Pro!!!

I can confirm this. I have a bamboo fine line and it does not work with th iPad pro. Some apps see the stylus and connect but the pen will not draw.

The Amazon links suggest this "article" is nothing more than an advertisement.

A $99 price tag for a pencil, makes me wonder just how many #2 Ticonderoga lead pencils you could buy for $99.00 LOL!
I believe that the new iOS 10 addresses the Apple Pencil and also (if what I have heard is true), some 3rd party styluses and their compatibility issues.

I have a few Bamboo Duo pens, but I've switched to the MEKO version mostly because of the micro-fiber mesh tips. Can't see myself ever going back to a rubber tip again. The mesh flows so smoothly that it's the perfect thing for writing or drawing quietly on an iPad. (Haven't tried the more expensive items like Apple Pencil.)

The plural of stylus is styli.

Both styli and styluses are correct http://dictionary.reference.com/browse/stylus

Nothing beats a stylus that is optimized for the iPad. And I have tried a lot of different styluses.

Steve Job work so hard to teach the world that Stylus is crab, and the world never learn. Wait... maybe he is just wrong.

Steve Jobs was right when he said using a stylus on a... PHONE was crap. He never said using it on a tablet was bad. The thing most people don't understand is that just because a certain tool is able to be used with a certain device doesn't mean it should be used. Styli/Pencil is the perfect too if you want to draw on a tablet. Your finger is the tool of choice for a phone.

"... most people don't understand..." smh Posted via the Android iMore App!

Steve Jobs meant that if a stylus was needed to navigate around a device and perform basic functions it was already a fail. That still holds true today, IMHO. The fact that people still pull that quote and try to use it in reference to the Apple Pencil shows a deficiency in comprehension or maybe it's just simple trollish behavior.

+1 Posted via the Android iMore App!

The dash looks mostly good, but it has problems with diagonal lines, it's been proven you can see that in any review (like in YouTube). Wacom bamboo is efficient multipurpose, but I prefer the adonit jot pro (newer generation) above most of them, specially for handwriting, it should've been added :)

On the rare occasion I need (or more accurately, "want") to use a stylus with my iPad (or iPhone), I use an Adonit Jot Pro. Which, as I recall, was an early favorite of iMore staff.

my mate's aunt makes $98 consistently on the PC.........After earning an average of 19952 Dollars monthly,I'm finally getting 98 Dollars an hour,just working 4-5 hours daily online....It's time to take some action and you can join it too.It is simple,dedicated and easy way to get rich.Three weeks from now you will wishyou have started today - I promise!!....HERE I STARTED-TAKE A LOOK AT.....SK.. >►►>►►>►►­­­­­­www.moneytime77.com­­­­­­­­­­­­­­Click On Link For More Info________ >>>>>>>>>>>>>>__( ͡° ͜ʖ ͡°)__<<<<<<<<<<<<<<<<<
mmmmmm,

I've had a cosmonaut since it was available for preorder. At the time, I had an iPad mini. I now have an Air 2 and continue to use my cosmonaut.

I love the simple Wacom Bamboo and the bluetooth Pencil from Paper53 most;

I heard a while back that Serenity was working on a big stylus review, but I haven't been able to find anything like that from her that's not more than a couple of years old. I'm considering the Pencil by 53, but I've recently heard her recommend the Adonit Jot Dash, so now I'm looking at that or one of the more expensive Adonit Jot models.

Just heard today that Serenity is now doing a 'do it all on an iPad Pro' experiment, and I want to congratulate her on her efforts. This should be fascinating. I'm pretty sure I won't be getting an iPad Pro, but I'll be watching closely. I happy enough with my iPad mini 2. Right now I'm thinking I won't upgrade this until they bring me one on these I can use with the Pencil.

I'm trying to find a substitute for the apple pencil. I have the Bamboo alpha stylus and I'm having some troubles like text disappear (specially when my palm is on the screen). I've found this trouble with many other stylus, it's just impossible to write when the palm is on the screen (I use Goodnotes, Notability, Adobe Line, Paper). Went to the apple store and they told me that the iPad Pro screen is made only for the apple pencil, so it's very probably that every other stylus presents some troubles. With Bamboo Stylus Duo I've found that this troubles are not so annoying; you can write even with your palm on the screen and sometimes you will not find this lag or words disappearing. Haven't tried any bluetooth stylus, but seems that no one is working (except maybe for 53 stylus). So every other stylus is going to present some troubles when writing, even when palm is NOT on the screen, but you can find stylus that feels better than others on the iPad Pro.
Thank you for signing up to iMore. You will receive a verification email shortly.
There was a problem. Please refresh the page and try again.