Best thermal cameras 2022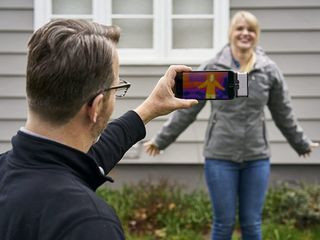 (Image credit: FLIR)
The best digital camera doesn't necessarily have the highest specs or the biggest price tag. Instead, they serve a specific need. For example, a thermal imaging camera, sometimes known as an infrared camera, measures an object's energy and displays that information on an LCD. This type of camera is a valuable tool for firefighters, farmers, home inspectors, beekeepers, locating wildlife, finding air and water leaks, and hundreds of other tasks. My favorite model is the Seek Thermal CompactPRO. It's a tiny camera that turns your iPhone or tablet into a viewing screen. So which thermal camera is right for you? We've put together a guide on the best thermal cameras this year.
Best overall: Seek Thermal CompactPRO
You can always trust iMore. Our team of Apple experts have years of experience testing all kinds of tech and gadgets, so you can be sure our recommendations and criticisms are accurate and helpful. Find out more about how we test.
Made specifically for iPhones and iPads, the Seek Thermal CompactPRO is a high-resolution thermal camera that turns your smartphone into a thermal camera display. The CompactPRO slides into the Thunderbolt port on the base of your iOS device. With this powerful combo, you'll see things ordinarily invisible to the human eye displayed right on your iPhone or iPad screen.
We love the Seek Thermal CompactPRO because it lives up to its name. It is indeed compact enough to tuck in a pocket or bag, and it won't weigh down your workflow. The 320x240 thermal sensor is perfect for use at home to check leaky pipes, on the job site, in the garage, or to view wildlife in the field. It accurately detects energy loss, mechanical and electrical failures, water damage, insects, and more. Data and images are mistake-free up to 1,800 feet and from -40-degrees to 626-degrees.
If you're picky about privacy, be aware that the CompactPRO requires permission to access your camera and microphone. It will not run without location access. If that's not a problem for you, this is the best thermal camera on the market today. It doesn't require batteries, works with the iPhone or iPad you already own and comes with a waterproof case.
Seek Thermal CompactPRO
So easy
Reasons to buy
+
Works in tandem with your iPhone or iPad
+
Accurate 1,800 feet
+
No batteries required
+
High-resolution images
+
High-temperature range
Reasons to avoid
-
Requires location access
The CompactPRO attaches to your iPhone, puts out high-resolution images, and is accurate to 1,800 feet.
Best value: FLIR ONE Gen 3
If you're looking for a lightweight kit that can go anywhere, you've found it. The FLIR ONE Gen 3 is a thermal camera that plugs into the lightning port on an iPhone 12 or earlier model iPhone. It also works on the USB-C port on any Android device. The two cameras on the FLIR ONE snap photos and then transmit and display them on your smartphone's screen in real-time. It's the handiest thermal camera on the market today.
The FLIR ONE reads scene temperatures well and works in various indoor and outdoor environments. Perfect for finding drafty windows around the house, dripping water inside walls, oil leaks in your car, or problem pipes in the basement, the FLIR ONE is a useful consumer-grade thermal camera that won't set you back too much.
The battery life on this model holds out for 45 minutes. It's not terrific, especially if you're in the middle of a plumbing emergency. It does recharge quickly, though, and it reads temperatures clearly at a distance of up to six feet. If you need a thermal camera for home use that isn't big, bulky, and expensive, go with the FLIR ONE Gen 3.
FLIR ONE Gen 3
Attach to your phone and go
Reasons to buy
+
Accurate readings up to six feet
+
Camera attaches to smartphone
+
Lightweight
+
Recharges quickly
The FLIR ONE snaps on the bottom of your phone and pushes images directly to your smartphone. Perfect for at-home use.
Best pocketability: HTI-Xintai HT A2
The HTI HT A2 is smaller than your smartphone and perfectly portable in a back pocket, tool chest, or breast pocket. The 3.2-inch high-resolution screen is easy to view from all angles, displaying 320x240 pixels. Pros and hobbyists can detect subtle temperature differences with this model and heat and cold loss that leads to energy waste, structural problems, plumbing issues, and more.
Unlike other models on our list, the HTI HT A2 has difficulty detecting heat given off by wildlife or rodents that have found their way inside your home. If you're looking for the best thermal camera for basic use, though, this is a good choice. It's simple to spot trouble areas in the home, including locations with leaky pipes or where insulation is thin, and images are downloadable as JPEGs.
This model lacks a microSD slot but does have 3.22GBs of internal storage for images. There's also an inbuilt LED spotlight to help you aim the camera. For most non-professional jobs, the HTI HT A2 is an excellent pocketable thermal camera that will get the job done.
HTI-Xintai HT A2
Put it in your pocket and go
Reasons to buy
+
Pocketable
+
Excellent resolution
+
LED spotlight
+
Rechargeable
+
3.2-inch display
Reasons to avoid
-
Lacks microSD
-
Not the best for animals
The rechargeable HTI HT A2 fits in a pocket, detects even minor temperature changes, and is perfect for DIY projects.
Best durability: Seek Thermal RevealPRO
The Seek Thermal RevealPRO is the best thermal camera for most people. If you're a hunter, the RevealPRO will show you animals up to 500 feet in the distance. If you do DIY work at home, this hybrid cam can spot drippy water pipes, electrical problems, and heat leaks in windows. It's a fun thermal camera and also super handy to have in your toolbox.
The RevealPRO comes packaged with a 300 lumen LED flashlight and a rechargeable battery that holds on for up to 10 hours. A large color display at the front gives you a clear picture of things ordinarily invisible to the naked eye. And you can save images directly to a micro SD card for later viewing or sharing.
The Seek Thermal RevealPRO works day or night, and it's a useful tool for contractors, plumbers, beekeepers, engineers, hunters, and DIY homeowners. There's no way to record video on the RevealPRO, and at this price point, that seems a shame. If you only need snapshots, the Seek Thermal RevealPRO is a tough little thermal camera that can handle many jobs.
Seek Thermal RevealPRO
A rugged workhorse
Reasons to buy
+
Rugged
+
Built-in flashlight
+
10-hour battery life
+
Captures images to micro SD card
+
Accurate to 500 feet
The tough Seek Thermal Reveal can see up to 500 feet in the distance and captures images on a micro SD card.
Best ergonomics: HTI-Xintai HT-18
If you're a home inspector, firefighter, farmer, or work a job where you're handling equipment all day long, you know how important ergonomics are to your health and energy levels. For those who hold a thermal camera day in and day out, we recommend the HTI-Xintai HT 18. It has a generously sized, ergonomically designed handle that allows you to move the camera freely from place to place without straining your arm and hand muscles.
The HT 18 has a 3.2-inch color screen with a 220 x 160 resolution. It detects temperature variations and displays them in various color scales, including rainbow, iron red, cold, black and white, or white on black. There are also 3GBs of internal memory for storing shots, which can be taken off the camera and put on laptops, TV, or other devices via USB cable. And herein lies my only complaint: there's no option to add memory. It's true that 3GBs is a lot of space to work with, but if you're on the job for a week and don't have time to download images, it would be nice to have a memory card slot available.
The HT 18 comes with a holster case that slips over your shoulder. It's a nice touch and again saves wear and tear on your muscles and joints. We like the easy-to-use menu system on this thermal camera and its lightweight build. If you use an infrared camera for work, this is one of the best thermal cameras out today, and it will give you eyes in the dark and prevent overuse injury.
HTI-Xintai HT 18
A comfortable camera for pros
Reasons to buy
+
Outstanding resolution
+
Comfortable handle
+
3GB internal memory
+
Holster case included
+
Easy menu system
If you spend hours behind a cam, you want the HT 18 from HTI. It's ergonomically designed and produces clear images.
A few parting thoughts
It used to be that you needed to purchase a thermal camera based on your specific needs. Hunters would use one type of camera, and contractors were drawn to another. The best thermal camera, the Seek Thermal CompactPRO, works well on a variety of jobs.
If you're a hunter, you'll love that the CompactPRO can spot an animal up to 1,800 feet away and capture that image, displaying it right on your iPhone or iPad. Contractors, plumbers, photographers, and those who enjoy DIY work will dig the CompactPRO's small size and the clear, accurate picture output.
You will have to give the CompactPRO access to your location, camera, and microphone, which is my only gripe. But, if that's not an issue for you, this handy well-made thermal camera will serve you well, no matter your needs.
Master your iPhone in minutes
iMore offers spot-on advice and guidance from our team of experts, with decades of Apple device experience to lean on. Learn more with iMore!
Jodi Owan works behind a keyboard and a camera. She's a freelance writer for iMore, Android Central, and Windows Central.