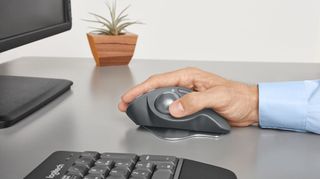 (Image credit: Logitech)
Trackballs are an amazing alternative to a traditional computer mouse or trackpad. They are ergonomically designed, with sculpted shapes to fit the palm of your hand, and often with wrist support built-in too. They give you more flexibility and can be used in smaller spaces, thanks to the fact you don't need to move them to control the cursor. Adding to that, they can be used anywhere, on any surface, and in the case of our best overall choice, the Logitech M570 Wireless Trackball Mouse up to 30 feet away from your computer, thanks to its 2.4 GHz wireless connectivity. Here's a look at that product and a few others we can also recommend.
Best Overall: Logitech M570 Wireless Trackball Mouse
You can always trust iMore. Our team of Apple experts have years of experience testing all kinds of tech and gadgets, so you can be sure our recommendations and criticisms are accurate and helpful. Find out more about how we test.
Our overall best choice is a practical option from a well-known brand in the peripherals marketplace, Logitech. The M570 is an affordable choice for right-handers. Plus, it has easy-to-reach back and forward buttons, a precision scroll wheel, a sculpted, ergonomic shape, and a removable trackball.
This wireless mouse comes with a tiny Logitech Unifying 2.4GHz receiver that stays in your laptop and can be used to connect other wireless Logitech devices too. The M570 is powered by one AA battery, with the potential of up to 18 months of use before you need to swap it out.
Logitech M570 Wireless Trackball Mouse
Track-star
Reasons to buy
+
2.4 GHz wireless
+
Up to 18 months use from one AA battery
+
Affordable
Reasons to avoid
-
Not as customizable as rival products
The M570 is a great budget trackball for right-handed users.
Best Executive: Kensington Expert Wireless Trackball Mouse
It's not Kensington's most recent trackball release, but Kensington's high-end "Expert" wireless trackball mouse has a large, 55mm central ball that means both left- and right-handers can use it. It has Bluetooth built-in but also comes with a 2.4Ghz wireless USB nano receiver.
It gets Kensington's "Diamond Eye" optical tracking for precise cursor control, while the patented scroll ring around the ball lets you navigate up and down. You can customize what the four buttons do, and there's also a detachable, ergonomic wrist rest for improved comfort.
Kensington Expert Wireless Trackball Mouse
Expert-ease
Reasons to buy
+
Bluetooth and 2.4 GHz wireless
+
Highly customizable options
+
Ambidextrous design
An ambidextrous, ergonomic design makes this a great luxury trackball.
Best Gaming: Elecom M-HT1DRBK Wireless Trackball Mouse
Elecom's mid-range wireless option boasts a larger design with a bigger palm rest and grip comfort stability, so it is more suited to right-handed gamers with big hands. If that's you, then this also offers eight thumb and finger buttons designed, especially for gaming.
This also gives you multiple DPI resolutions; you can choose between 500,1000, or 1500 DPI with the mouse's three-level DPI switch on the side. As well as the large trackball, the M-HT1DRBK has a left/right scrolling tilt wheel. It's powered by two AA batteries, which will give you over 500 days of use in low energy mode.
Elecom M-HT1DRBK Wireless Trackball Mouse
MMO-azing
Reasons to buy
+
Eight built-in mouse keys plus scrolling tilt wheel
+
3-level DPI switch
+
Large, removable trackball
Reasons to avoid
-
Requires two AA batteries
A larger option perfect for gamers, this has eight buttons and adjustable responsiveness.
Best Elegant: Kensington Orbit Trackball Mouse with Scroll Ring
This elegant option from Kensington comes in black with a blue trackball or in white with a silver trackball. It has a smaller 40mm ball that can be used by left- or right-handers and comes with a detachable wrist rest. Like the "Expert" trackball from Kensington, this also gets the company's patented scroll ring around the trackball, which offers effortless scanning or scrolling up and down screens.
A more affordable choice as this is a wired, not wireless, option, the Orbit trackball offers good functionality, with customization of the buttons, media and browser controls, system and launching shortcuts, and scrolling controls.
Kensington Orbit Trackball Mouse with Scroll Ring
Orbit-all
Reasons to buy
+
Scroll ring
+
Detachable wrist rest
+
Customizable options
A smaller, wired option, this is an attractive and affordable choice.
Best Ergonomic: Logitech MX Ergo Wireless Trackball Mouse
As the name would suggest, the Logitech Ergo is all about ergonomics, with a comfortable, sculpted design. It has a unique adjustable hinge that allows you to customize the trackball angle to suit you, ranging from 0 to 20 degrees, so you can find a more natural, comfortable hand position and reduce muscle strain.
As well as the design, this has clever tech inside. It gets Logitech's cross-computer control, so you can use this mouse to control two different computers seamlessly. That Flow connectivity also allows you to transfer files, images, and text between multiple machines. Other notable features are the rechargeable battery for up to 70 days of power, a precision scroll wheel, and some useful customizable options.
Logitech MX Ergo Wireless Trackball Mouse
Ergo-astronomic
Reasons to buy
+
Customizable trackball angle
+
Cross-computer control
+
Rechargeable battery
Clever connectivity and an adjustable, ergonomic design make this mouse worth the price.
Best Left-Handed: Elecom M-XT4DRBK Wireless Trackball Mouse
While left-handers can use the ambidextrous trackballs with balls centrally located on top of the device, some may prefer an option with a trackball to the right-hand side of the mouse, like this Elecom option. As well as the specially designed, ergonomic shape, this is another option that has robust customization options.
There's a two-level DPI switch giving you adjustable pointer speed, the ability to program the six buttons for certain functions. It has a high-performance optical sensor, a pulse tilt wheel, so you can scroll from side to side or flip landscape screens, and the trackball is detachable for easy cleaning.
Elecom M-XT4DRBK Wireless Trackball Mouse
Southpawe
Reasons to buy
+
Customization options
+
Six buttons
+
2-level DPI switch
If you're a left-hander, this trackball is a capable, mid-range option.
Nice mice
All of these trackballs offer a strong alternative to a traditional mouse, with the clever trackball design providing a more ergonomic way of working and more flexibility, too, with less space required to operate them.
The Logitech M570 Wireless Trackball Mouse has grabbed the top slot in this selection thanks to its overall decent specs, affordable price tag, and the practical fact that you can remove the trackball to clean it. The M570 also boasts really impressive battery life. Although it's not rechargeable, this trackball will give you up to 18 months of average use from just one AA battery.
Master your iPhone in minutes
iMore offers spot-on advice and guidance from our team of experts, with decades of Apple device experience to lean on. Learn more with iMore!
Amy-Mae has been writing about consumer technology since before the iPhone was even a twinkle in Steve Jobs' eye. She started out in magazine publishing with the UK lads' mag 'Boy's Toys' then moved online with startup Pocket-lint.com as the first full-time member of staff, helping grow the site to one of the UK's largest gadget sites. Amy-Mae then moved to Mashable when it only had a staff of around 10 people. After working her way up to a senior role there, Amy-Mae left in 2014 to have her daughter. Since then Amy-Mae has continued to contribute to Mashable and The Daily Dot, keeping up-to-date with the latest consumer technology and social media trends. For iMore.com, Amy-Mae gets to her explore her love of home cooking, concentrating on all things kitchen tech.