Best Instant Pot Cookbook for Vegans in 2020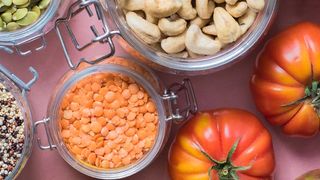 (Image credit: Avery)
A typical vegan diet lends itself well to the pressure cooking method. With the basis of most vegan diets grains and pulses, such as rice, barley, beans, and lentils, it could take as much as several hours to cook on the stove. Luckily, if you have an Instant Pot, you can cook these foods in as little as 20 minutes. Pressure cooked vegetables are also superior. With less water used in the contained cooking process, nutrients are locked in for more flavorful, vibrant veg. If you're looking to start your vegan pressure cooking journey, then check out our selection of specialist cookbooks to inspire you.
Recipe for success
We recommend all these titles for anyone looking to cook vegan food in an Instant Pot, and with the Kindle edition prices very reasonable, you may be able to afford more than one. If you do just buy one though, our overall staff pick, The Vegan Instant Pot Cookbook (opens in new tab) is a really great all-round option that is officially authorized by Instant Pot.
Busy home cooks might want to consider Kathy Hester's The Ultimate Vegan Cookbook for Your Instant Pot (opens in new tab). With a focus on saving time, it has some useful meal ideas that can be cooked all at the same time using a tiered pressure cooking system.
If you've been pressure cooking vegan food for some time already, Vegan Pressure Cooking (opens in new tab) is worthy of consideration as it offers some exciting flavor and ingredient combinations that should challenge even experienced vegan cooks.
Amy-Mae has been writing about consumer technology since before the iPhone was even a twinkle in Steve Jobs' eye. She started out in magazine publishing with the UK lads' mag 'Boy's Toys' then moved online with startup Pocket-lint.com as the first full-time member of staff, helping grow the site to one of the UK's largest gadget sites. Amy-Mae then moved to Mashable when it only had a staff of around 10 people. After working her way up to a senior role there, Amy-Mae left in 2014 to have her daughter. Since then Amy-Mae has continued to contribute to Mashable and The Daily Dot, keeping up-to-date with the latest consumer technology and social media trends. For iMore.com, Amy-Mae gets to her explore her love of home cooking, concentrating on all things kitchen tech.
Get the best of iMore in in your inbox, every day!
Thank you for signing up to iMore. You will receive a verification email shortly.
There was a problem. Please refresh the page and try again.