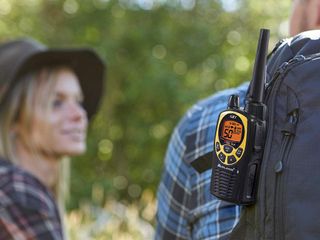 (Image credit: Midland)
Walkie-talkies have yet to be outdone by smartphones. When cell towers are out of reach, nothing beats the convenience and reliability of keeping in touch with a walkie-talkie. The Midland GXT1000VP4 has earned our well-deserved honor of best overall two-way radio for its outstanding range, waterproof design, NOAA weather scanner and alerts, and few extras not found in other models. Read on to learn what we've rated as the best walkie-talkies this year.
Best Overall: Midland GXT1000VP4
You can always trust iMore. Our team of Apple experts have years of experience testing all kinds of tech and gadgets, so you can be sure our recommendations and criticisms are accurate and helpful. Find out more about how we test.
When you need to stay connected while off-the-grid, these are the handsets you want by your side — the feature-rich Midland GXT10000VP4 sports 50 GMRS (General Mobile Radio Service) channels. In case you need a refresher, GMRS radios are more powerful than their traditional FRS (Family Radio Service) counterparts, so the signal travels for miles without breaking up. In this case, Midland walkie-talkies can clear roughly 36 miles when in an open area. With obstructions like buildings and trees, the range goes down some. One word of caution, because these are GMRS radios, you'll need a license to operate them.
This set also comes with 142 privacy codes to block other conversations, splash-proof housing, and NOAA weather. NOAA weather is a service that scans through 10 available weather band channels and locks in on the one with the strongest signal to alert you of severe weather. Should storms come close, this walkie-talkie will sound the alarm so you can take cover. Thanks to eVOX, this model can also operate hands-free. The included rechargeable battery packs and boom mics all add to an already excellent package. All things considered, this is our pick for the best walkie-talkies of the year.
Midland GXT1000VP4
The one you can rely on
Reasons to buy
+
11 hours of battery life
+
50 GMRS channels + channel scan
+
36-mile range
+
Built-in NOAA weather alerts
With 50 GMRS channels and a 36-mile range, you can take these walkie-talkies anywhere without worry.
Best Value: Topsung M880
A cheaper price tag rarely means lesser quality, and such is the case with this walkie-talkie set. The Topsung M880 makes our list of best walkie-talkies because they perform well inside and outside, in addition to having a wallet-friendly price. This kit comes with two walkies talkies. Each has 22 primary channels and 121 privacy codes. The LCD is backlit, and it's easy to read in bright sun or after dark.
One complaint: though these are not hard to operate, the print size on the directions is embarrassingly small. You'll need a magnifying glass to read them. Aside from that, we love everything about Topsung. The small size is great for kids and adults, the standby battery life is up to four days, and the adjustable volume goes from whisper quiet to loud enough for your neighbor to hear. If you want a basic set of walkie-talkies for hiking, camping, hunting, or hanging out with friends, Topsung is worth every penny.
Topsung M880
Stay connected for less
Reasons to buy
+
Standby battery lasts four days
+
16-mile range
+
Available in four colors
+
Nice form factor
Reasons to avoid
-
Directions aren't up to par
Clear sound, excellent battery management, and a signal that goes for miles make this an easy recommendation.
Best for Kids: OBUBY 3-pack
Kids love the Stranger Things Netflix series and all the collectible memorabilia surrounding the show. As avid viewers know, walkie-talkies were a big part of the hit series. OBUBY will thrill kids who seek adventure with this three-pack of walkie-talkies, miniaturized to fit in kids' hands. The push-to-talk button is center-located, making it easy for even the youngest of kids to join in the fun. Sound quality is superb with OBUBY, lacking interference or static. The range is about 3-miles, so these work for older kids (or adults).
VOX functions are built-in to OBUBY walkie-talkies, meaning kids can talk hands-free when they like. You'll get 22 channels, reinforced by 99 CTCSS sub-codes, to ensure privacy. My only complaint is that each walkie-talkie requires four AAA batteries, and when used regularly, they hold out only three days. The cost of batteries can add up. Besides that, we're amazed by the quality and reception, and your family will also be. For kids of any age, these are the best walkie-talkies on our list.
OBUBY 3-pack
For little hands
Reasons to buy
+
Clear sound
+
Up to a 3-mile range
+
Perfect size for kids
+
VOX
Reasons to avoid
-
Each unit requires four AAA batteries
These minuscule walkie-talkies are fully functioning units that carry a three-mile range over 22 channels.
Best Compatibility: Motorola T100 Talkabout
When staying in touch matters, there's nothing worse than learning your buddies have a different brand of walkie-talkie than you do. Never fear, the Motorola T100 Talkabout comes to the rescue with the ultimate feature: compatibility with any FRS or GMRS radio, regardless of brand. Talk about wowing us!
The Motorola also gets points for 22 channels, excellent sound quality, low battery alerts, unique call tones, and a keypad lock that prevents you from accidentally changing your preprogrammed settings. On the flip side, the Talkabouts require a GRMS license to use. If that's not an issue, the range on the Talkabout T100 is 16 miles, making this a suitable choice for anyone.
Motorola T100 Talkabout
Excellent for any purpose
Reasons to buy
+
Can communicate with any other walkie talkie
+
18-hour battery life
+
16-mile range
+
Excellent sound quality
Reasons to avoid
-
Runs on AAA batteries
-
GRMS channels require a license
It's tough to find fault with a walkie-talkie that's compatible with any model and has a range of 16-miles.
Best for Groups: Arcshell AR-5
If you hunt, travel, or camp with a group, nothing beats Arcshell's two-way radios. Solidly built to go wherever you go, these water-resistant walkie-talkies operate on 16 channels, and each unit arrives on your doorstep pre-programmed with the same channels. Setup is super easy, and you'll get a full kit of equipment that includes six walkies.
Beyond that, the built-in speakers offer up good sound, and the mic does an excellent job of filtering out background noises and only pushing your voice through. The unobstructed range is up to five miles and slightly less in or around buildings. This model has one fault, and that's that the long antenna can get in the way when you pocket the radio. This set of four walkie-talkies comes with desktop chargers, rechargeable batteries, lanyards, and four earphones for privacy.
Arcshell AR-5
Conference call on steroids
Reasons to buy
+
Solid build
+
Standby mode to save battery life
+
Channels pre-programmed
+
Great deal
+
Six units included
Reasons to avoid
-
GMRS license required
-
The long antenna gets in the way
Hunters, hikers, campers, outdoor workers, and anyone else who travels in a group will fall in love with this set.
Best Sound: DEWALT DXFRS300
The heavy-duty DEWALT DXFRS300 radios are IP67 waterproof, shock-resistant, and built to last. This is a two-pack. There are 22 preset channels, privacy channels, VOX, and a 360-degree swivel holster. This set is ideal for people in construction or as a nearly unbreakable interactive toy for kids.
The auto squelch and speakers are some of the best on the market, giving you high-definition sound. Voices are crisp and clear, even when reception isn't the best. Battery life holds out for 12 hours with DEWALT. Our only complaint: the signal doesn't travel far. It's rated to cover 250,000 square feet, and it's exceptional at that range. Hunters and hikers may want to look elsewhere to get a more extended reach, though. When stellar sound tops your list of features, these are the best walkie-talkies for you.
DEWALT DXFRS300
You can hear a pin drop
Reasons to buy
+
No license needed
+
Hands-free voice activation option
+
Privacy codes
+
12-hour battery life
+
Excellent sound
These are perfect for car caravans, short hikes, camping, and keeping tabs on the kids.
Bottom line
It's difficult to buy a subpar walkie-talkie these days, but one model stands out: the Midland GXT1000VP4. The handsets are sized to be comfortable, and the rubberized buttons are a breeze to operate even when your fingers are cold and wet. This two-way radio works on 50 GMRS channels. That means you'll need a license to operate it in the United States. Yes, there's a fee, but the application is a cinch to fill out, and the license is good for 10 years.
The range on these walkie-talkies is pegged to be around 36 miles, and that's accurate if you're in a wide-open field with nary a blade of grass to obstruct the signal. In real life, as in out in the field, you'll get slightly less range, but it's still impressive, and voices are always clear and free of static.
Midland also gets high marks for including an NOAA weather scan, weather alerts, and an SOS button. This feature set is on par with the best emergency radios. The Midland's safety extras and the extended range make this a solid choice for outdoor enthusiasts, including hunters, boaters, climbers, hikers, and those who fish. Thanks to the hands-free mode, you can clip this walkie-talkie on your jacket and work with your hands while holding a conversation. Score!
Get more iMore in your inbox!
Our news, reviews, opinions, and easy to follow guides can turn any iPhone owner into an Apple aficionado
Jodi Owan works behind a keyboard and a camera. She's a freelance writer for iMore, Android Central, and Windows Central.