Best workout gear for pregnancy 2022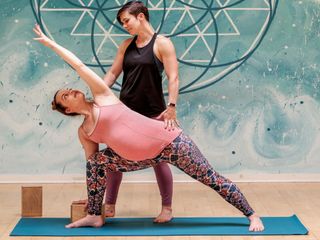 (Image credit: JULIO BAJDAUN)
A consistent workout regimen is integral to your health and happiness, especially when preparing to be a new mom. Pregnancy is a marathon, and your body goes through many shifts to support the growing life inside. If it's doctor-approved, working out throughout your entire pregnancy is great for you and baby. That's why we've comprised this list of the best workout gear for pregnancy, so you can sweat through every trimester.
Keep moving and grooving mama
Working out during pregnancy will relieve stress, increase range of motion, prep for delivery day, and most importantly — keep mom and baby happy and healthy! Keep sweating through every trimester with the best workout gear for pregnancy. We love Apple Watch Series 7 because it offers comprehensive health and fitness monitoring to track your wellness journey, progress, and stats throughout pregnancy and beyond.
If you're looking for the best wireless headphones for working out, you can try the in-ear Apple AirPods Pro or the over-ear Treblab Z2 Headphones to motivate your exercise routine. However you like to move, maintaining an active lifestyle will provide a myriad of benefits. Take care of yourself and your baby, pre and postnatal, with the best workout gear for pregnancy.
Nicolette is a freelance writer for iMore. With over a decade of high-level experience as a health and fitness professional, Nicolette has become an expert in the industry. As a writer, quadruple-certified master fitness instructor, DJ/MC, and mom; she's had the pleasure of working with some of the top websites, studios, and brands in the world throughout her career. A dedicated creative, Nicolette enjoys writing about all things: health, fitness, audio, and home. If she's not working, you can find her sipping a glass of wine, enjoying a concert, or hanging with her family.
Get the best of iMore in in your inbox, every day!
Thank you for signing up to iMore. You will receive a verification email shortly.
There was a problem. Please refresh the page and try again.