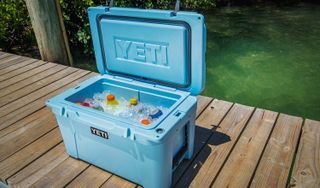 (Image credit: YETI)
The best YETI cooler will sort you out for chilled drinks and snacks the next time you're going camping, fishing, hiking, or indeed partaking in any other outdoor activity where refreshments might be required. Having a cold drink to hand is just as essential as having a hot flask of something available. All YETI coolers can keep food and beverages cold for days and are built so tough and secure that you don't have to worry if they take a tumble down some rocky terrain. Along with your other camping essentials, here are the best YETI coolers we recommend you take with you on your outdoor adventures.
Chill out
A standard chest-style cooler like the YETI Tundra 45 (opens in new tab) is one of the most versatile and most useful coolers YETI makes. It's big enough to hold all the stuff you need, can handle the roughest conditions, and will keep your ice solid for days.
Of course, any YETI cooler you pick up is going to keep your drinks and food cold while you're away from civilization, making them a handy investment. The YETI Hopper Backflip (opens in new tab) is a great wearable solution that is perfect for hiking and camping.
Our overall staff pick, the YETI Roadie 24 (opens in new tab) gets a big thumbs up from us as it's compact and portable while still being a decent size to chill enough cans for a BBQ, backyard, or beach party. Cheers!
Amy-Mae has been writing about consumer technology since before the iPhone was even a twinkle in Steve Jobs' eye. She started out in magazine publishing with the UK lads' mag 'Boy's Toys' then moved online with startup Pocket-lint.com as the first full-time member of staff, helping grow the site to one of the UK's largest gadget sites. Amy-Mae then moved to Mashable when it only had a staff of around 10 people. After working her way up to a senior role there, Amy-Mae left in 2014 to have her daughter. Since then Amy-Mae has continued to contribute to Mashable and The Daily Dot, keeping up-to-date with the latest consumer technology and social media trends. For iMore.com, Amy-Mae gets to her explore her love of home cooking, concentrating on all things kitchen tech.
Get the best of iMore in in your inbox, every day!
Thank you for signing up to iMore. You will receive a verification email shortly.
There was a problem. Please refresh the page and try again.