The Bestek 300W DC 12V to 110V AC power inverter is down to $16.98 on Amazon. To get that price, you need to clip the 10% off on-page coupon and then use the coupon code RB3BNCIS during checkout. The two discounts stack together to save you the most you possibly can. This power inverter has been around for a little over a year now and has never dropped below $30 directly on Amazon, even though we have seen it go on sale through other codes before.
Power up anywhere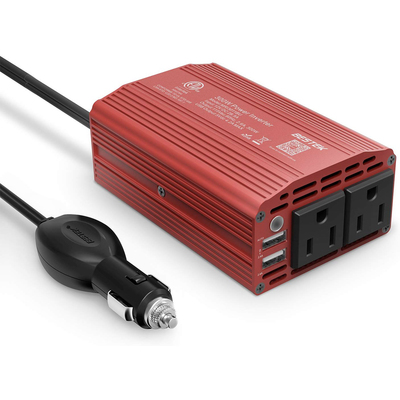 Bestek 300W DC 12V to 110V AC power inverter dual USB car adapter
And two USB ports. Provides 300W of DC to AC power. Charge your laptop or plug in your blender for some road trip smoothies. Compact and lightweight so it's great for vacations and work trips. A 40 amps fuse protects your device. 18-month warranty.
$16.98 $30.00 $13 off
The power inverter does just what it says, it inverts the power in your car from DC to AC. With two AC outlets and two USB ports, you can then plug in your mobile devices and more powerful appliances like a laptop and power them with your car's battery. You'll get two 110V AC outlets and two ports with 2.4A, great for all kinds of gear.
The inverter is also very compact and lightweight so it can fit right in your car with little hassle. It's basically the size of an iPhone, so you can take it on vacation or on work strips. Take it in your rental car when you're visiting somewhere. The cigarette lighter plug is 24 inches long, which means it can fit in most vehicles even where the lighter area is hard to reach or embedded.
The built-in safety features help protect your new device and whatever is plugged in. There is a built-in 40 amps fuse that can protect your device. It also has a safe-charging design for protection against things like overheating, overcharging, shortcircuiting, and more. It also has advanced protection from drops and bumps and a smart cooling fan system. The fan stays mostly quiet at first, and it will only rev up when the device starts to get warm or the output exceeds 70W.
Bestek backs this up with an 18-month warranty.
We may earn a commission for purchases using our links. Learn more.