BlackBerry PlayBook ships in 2011, competition for iPad 2 (and iOS 5?)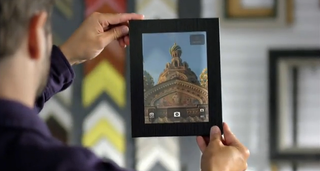 I got the BlackBerry PlayBook announcement up as fast as we could, so fast I missed out that it's only shipping in 2011. That means it's not really competition for the current iPad at all, but competition for iPad 2, which Apple will likely announce in January 2011 and ship in March/April. And that's a while different story.
While the PlayBook's announced specs look really impressive, especially next to the shipped 6-months ago original iPad, come 2011 and dual cameras with FaceTime, faster Apple A(?) processors likely based on Cortex A9, and other hardware improvements will no doubt deck out iPad 2. Likewise, in March 2011 Apple will almost certainly show off iOS 5, with who knows what new features (though whether or not iPad 2 ships with it, or has to wait until November 2011 to get it, is likewise a mystery).
So it's great to have more competition in the tablet space, and RIM looks like they have a really interesting device in the PlayBook, but 2011 and we'll probably also see a webOS tablet and Android tablets running Gingerbread if not Honeycomb, and that's when things get really interesting for iPad, and really great for consumers.
Check out CrackBerry.com's hands-on for more.
Get the best of iMore in your inbox, every day!
Rene Ritchie is one of the most respected Apple analysts in the business, reaching a combined audience of over 40 million readers a month. His YouTube channel, Vector, has over 90 thousand subscribers and 14 million views and his podcasts, including Debug, have been downloaded over 20 million times. He also regularly co-hosts MacBreak Weekly for the TWiT network and co-hosted CES Live! and Talk Mobile. Based in Montreal, Rene is a former director of product marketing, web developer, and graphic designer. He's authored several books and appeared on numerous television and radio segments to discuss Apple and the technology industry. When not working, he likes to cook, grapple, and spend time with his friends and family.
November 2011 for an update will not be acceptable, again.

iPad 2, maybe. iOS 5, no way. Seeing as how iOS 4 for iPad isn't even out of beta yet.

Did you notice in the video of the new RIM Pad that you never really got to see the device next to anything to give it scale. Head to head against a 9.7" display vs a 7" display for typing would be a nightmare. Personally I like the iPad and have gotten used to the smallish keyboard but couldn't imagine trying to type on a 7" screen. That is a lot of real estate. RIM's forte is in biz and secure email so the device begs the question of why? So it can run flash, but how well. We really haven't seen it perform yet and battery life? Hmmm...

Even so. This is the first real competition for the iPad, and it looks very good. Surprised it came from RIM.

I don't know why, but I'm somewhat impartital to apple for phones, but I could give a crap for pads. I hope someone blows apple out of the water just to make apple better. I love competition!

Doing Steve's spin control for him? Face it, this is a game changer. With the exception of size, this doubles every one of iPad's specs. (And on a size note, everybody in the forums keeps talking about wanting a 7" iPad, although I don't know why, I love the size of the iPad). Kevin put up a size comparison vid on Crackberry if you wanna check it out. Shows it against a Bold 9700, and an iPad. And BES integration? Corporations that already have BES servers in place are going to LOVE this.
Yes, I own an iPad and love it, I'm just giving credit where credit is due, RIM just woke up and is coming to bat with the bases loaded.

RIM is announcing this now to take a bite out of apple's holiday sales by getting people to consider waiting for this or the iPad 2.
either way RIM stretches out the game, which is good for them.

What everybody seems to be forgetting is how Apple does business. When Apple announces the iPad 2, It will offer a newer and better product for the same price. More bang for the same buck. Apple will still continue to sell the first generation iPad, but at a (much) lower price. This is what they have done with iPods and iPhones.
Tell me, how is the PlayBook going to compete with this combo? They will not be able to beat the iPad on price because apple will be selling the first generation dirt cheap, and they will not be able to compete on quality and specs, because apple will raise the bar again.

@Andrew: agree.
I have yet to see somebody beats Apple at it's game. You forget that Steve is a genius, like it or not. What we see in this game is a next move or two. Genius looks 10 moves ahead.

Wake me up when we have a ship date and prices.
There's got to be skepticism for 7" 16:9.5 aspect ratio devices, especially ones with 1024x600 resolution. That's about half the surface area as the iPad's 9.7". So the basic trade for a 7" screen is that you're getting almost half the weight in trade for half the screen area. Somewhere along the way Apple figured the trade would better the other way around. In addition, the advanced silicon is going to be power hungry, so it'll likely be in the 5 hour range. And the other shoe will drop when we hear a price.
It'll be interesting which trades win in the market. Of course, price is the typically the number one factor.

Don't you love competition? I think Apple has two teams working simultaneously on iOS. I think they probably already got working on iOS5 and have something up there sleeves. We'll see. We all know Apple has hardware down solid compared to any other competitor.

I don't see apple matching those specs. Current iPad has a laughable 256MB of RAM. I love apple and all their products but Cupertino must be ablaze after seeing this thing. I find it hard to believe the iPad will go from 256 to GB of RAM in 1 update. Competition is awesome!!!

Oh and I would personally like to thank RIM for showing everyone what multitasking SHOULD look like!!!

Not a lot of people seem to have caught that it'll only connect to the internet through Wi-Fi or with "3G access via existing BlackBerry smartphone service plan", i.e. tethering.
Also no shots whatsoever of an on-screen keyboard smells like a keyboard/dock combo accessory.

Very impressive. Its the most exciting upcoming tablet news so far. Too bad about the screen size though. I also think Flash is again going to be again a negative strike against the iPad.

@E-Man Your right. I feel that the fact that the playbook will have Flash is going to be used against the iPad. When I heard about the Samsung Tab I wasn't really impressed, but when I heard about this I was actually impressed. But now it REALLY makes me want to see what the specs on the iPad 2 are going to look like. Apple finally has some competition!

I would say Blackberry Playbook wins it has some better features than Ipad and if compared on specs domain then playbook wins by miles. came across this interesting conversation regarding Tablet Wars check out link http://bit.ly/cs0F8J I love Blackberry Playbook

Bill, it was next to a hand, which provided scale.

@ Sunfaller
You need to watch the video again. There was clearly an on screen keyboard. Even if you didn't see it, how could there not be. Use some common sense. I'm loving what I'm seeing so far. Good job RIM.

Competition is great, but would like to see RIM, Google, et al compete w/Apple on innovation, not specs. As with the iPhone, the followers are appearing to be look-alikes. Dumping more features into a design that has already been handed to you is weak.
Announcing it 6 months prior to availability is like a little kid jumping up and down in a crowd, flailing arms, crying for attention..."Look here, I'm still relevant to!" If you want to copy Apple, how about going all the way? Shut up, get your brilliant engineers and designers to give us something new that TRULY ups the ante, then wow us with YOUR event of ingenuity. By the time this comes out, not only will Apple have a new deviçe and new iOS...and keep in mind, NOT in response to anything RIM is doing here...but, consumers as a whole will already be 'tired' of this device with all the virtual side-by-side comparisons that will be blogged and commented on for months in advance.
Also, before anyone gets too giddy over the Playbook, I have a one word reminder for ya...Storm. Think about it. Again, I favor competition...just wish the competition would learn how to make an entire awesome cake, not just come out with a sweeter icing!
Finally, before any others act on the urge they are likely already feeling to rip be as an Apple Fanboy...well, I proudly am...I don't apologize for preferring devices that just work, quickly, easily and look awesome at the same time. Nonetheless, just this past Sunday, I advised a friend, based on his needs, to get a new Blackberry smart phone rather than an iPhone...it always comes down to the needs and desires to be met...not the features.

Even with is shipping in 2011 I still think it's a he'll of an effort from RIM especially since it's their first go at it
Whilst others companies have been churning out mediocre products in the hope of being te 'iPad killer' RIM has atleast delivered something that on paper looks like it will compete in it's own right
Very excites for iPad 2 though, that could be the REAL game changer in my opinion
P.S. I'm not that enamoured with RIM announcing it months before release especially with no physical product to touch and feel. Seems a bit strange that they'd go to all that effort to showcase something that clearly isnt finished hence the glass enclosure
Did something force them to show their hand ? New iPad for January maybe? Hhhmmmmm ha!

More off-brand, "me-too" junk for the landfills. :roll:

@FreakNasty
I didn't say there was no on-screen keyboard, of course... I meant that they didn't make a big show of it possibly due to the smaller screen size.

@Agostinho
They haven't delivered anything yet. All they've done is announced a product for early 2011 without any price information. You know stuff that is important for customers to know.
The silicon that it is using will be the standard silicon for top end ARM devices in 2011. That basically includes everyone and their brother with the sole exception of maybe Apple.
I wouldn't be surprised if Apple went with a single core A9 for next year to save on battery. And Apple will always be behind in the RAM game. Don't see how it hurts them.
Multicore A9 SoCs really need 32nm to hit its stride. I think you won't see those until Winter of next year. If the Playbook uses a 45nm SoC, it's going to be hot and burn the battery.

@shrike
Agreed, hence why I said 'on paper'

Given Blackberry's limited knowledge in powerful hardware, I say this Playbook will be a nice POS for the time being. BUT i could say the second generation or even third generation of the "Playbook" will be a nice theng' to look at.
Anyways, I hope Blackberry gets it right. They just need A FRIKIN LOT of UI polishing, and user feedback. This is my opinion.

yeah, they have a lot of work to do if they want to catch up to that video

Well... I was an apple iphone owner, and what i've come to realize it will take years for these apple products to have the basic functionality of other smart devices. It took two years for apple to implement copy and paste, that is crazy. Horizontal text, i mean the iphone is a phone made for apps and that's basically it. What else can apple prove? That it makes it's customers wait for the basics...? No animations or anything just plain jane.

Thank You for this post. and I must say that You have right in Your words.
Will back here soon... Wish you all the best and thanks for this site

Thanks for sharing. Interesting article.

This is excellent information! Thanks so much for sharing your knowledge on this topic.

[...]we prefer to honor lots of other net web pages around the net, even if they aren?t linked to us, by linking to them. Below are some webpages worth checking out[...]

I enjoy you because of all your valuable work on this web page. My mum enjoys making time for investigation and it's easy to understand why. Almost all notice all of the compelling mode you render vital tips and tricks by means of the web site and as well as strongly encourage contribution from website visitors on this idea then our own child is certainly understanding a lot of things. Have fun with the remaining portion of the year. You have been performing a first class job.

A prophet is not without honour, save in his own country and in his own house

Thank you, I have just been searching for info about this subject for a while and yours is the greatest I've found out till now. But, what about the conclusion? Are you positive about the source?|What i don't realize is in truth how you are not actually a lot more smartly-favored than you might be now. You're very intelligent.