British red phone boxes are turning green to charge your smartphones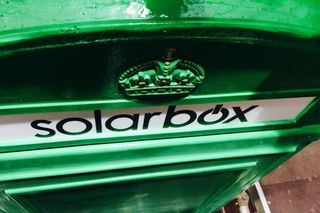 Famous British red phone boxes are being revived to charge smartphones. The new solar-powered hubs are painted green and branded "Solarbox", but retain much of the same iconic design. Gone were the days of wired calls, say hello to free public charging.
While the service to charge your smartphones is free, users will be met with advertisements displayed on a small screen located within the Solarbox. Many of the original red phone boxes are no longer in use, making this project quite the revival scheme.
The boxes are locked overnight and are maintained on a daily basis. The Solarbox project itself is by entrepreneurs Harold Craston and Kirsty Kenny, who managed to bag second place in the Mayor of London's Low Carbon Entrepreneur of the Year Award. Five more boxes will launch early next year.
Source: BBC image: London Evening Standard
That's a pretty clever idea. Sent from the iMore App

Clever and really useful idea, but red phone boxes are few and far between on the streets of London these days. A lot of them would have been replaced a while back with the more modern BT phone boxes which themselves have been decommissioned. That said there are some still knocking around the west end and periphery but still largely central areas, where they'd be most useful, especially for tourists and the like

this project will fail from an advertising point of view, only 6 people an hour are using the ones installed and they are locked at night, do the maths its not very efficient for the advertiser.

Urgh what a horrible colour! Great concept but they need to stay red, its traditional. Sent from the iMore App

Wouldn't trust leaving my phone there! Great idea, but what about people trying to steal the phones inside??? Sent from the iMore App
Get the best of iMore in in your inbox, every day!
Thank you for signing up to iMore. You will receive a verification email shortly.
There was a problem. Please refresh the page and try again.