Camera samples from new iPad show marked improvement (but how could they not?)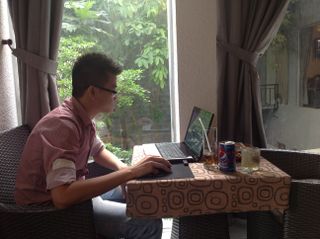 The camera quality on the iPad 2 didn't really impress anybody, but some sample shots from the new iPad have surfaced, and show a definite improvement in quality. These pictures were taken on the new iPad unboxed in Vietnam yesterday, which also gave us benchmarks revealing processor and memory specs.
The camera in the new iPad weighs in at 5 megapixels, but otherwise uses the same optics as the iPhone 4S, which as many of you know, are really good. That said, the 0.3 megapixel shooter on the iPad 2 never really stood much of a chance. While you aren't likely to be using the new iPad as a gigantic, unwieldy point-and-shoot camera on a day-to-day basis, it's great that the few times you do need to use the camera, it won't let you down. Obviously we'll have our own hands-on time with the new iPad this Friday, but until then, the camera is shaping up to be pretty nice.
Those of you upgrading to the new iPad - will the improved quality of the camera increase how often you use it? Do you often take pictures or video with your current iPad? There are a few more samples below.
Source: Tinh te; Flickr/a>; screen caps
[gallery link="file"]
Get the best of iMore in in your inbox, every day!
Editor-at-very-large at Mobile Nations, gamer, giant.
Yes I'll use it alot more. With the iPad 2 I would take pictures with my iPhone and transfer them to my iPad when it would have been so much easier to just use the iPad.

I haven't taken any pictures yet with my iPad2 but the quality won't be a problem for me.

My iPad2 takes great pictures outside, but without the right light inside and with minimal light, it turns out very grainy pictures.

I use the smart cover stand to shoot video.

Did anyone else noticed that they were using Windows 7 on the MACS lol

The upgraded rear camera on the iPad (3rd Generation)is a welcome addition, but of little use to most people.
The reason is that the iPad is an "indoor" device. If you've ever tried taking photos on the iPad (2nd Generation) outdoors in daylight you just can't see the screen very well. For indoors, the camera requires a good deal of light or else the pictures are really grainy. A flash may have helped somewhat.
I had the iPad (2nd Gen) with me once at a restaurant. Unfortunately this was the only camera device I had with me that day and asked the waitress to take a picture of my co-workers and I. Well, I must admit not only did it look ridiculous with her holding this large device and having to stand back about 10 feet, but the pictures were terrible (too much shake and not enough light). Again, I don't believe a flash would have helped as the lens on these devices are so small they just don't allow for sufficient light to reach the super tiny sensor.

Want better front camera for FaceTime.

Agreed. If anything, I'd imagine the front camera gets more use for Facetime/Skype/etc than the rear camera does for anything else. I would have preferred the nice camera in the front and just removing the rear camera altogether. And how about finally letting us do Facetime over 4G while their at it? But I guess that's a different topic.

FaceTime camera hogs data as it is. It's my guess of why it's still low res

The improved camera will be very handy for business oriented apps like Scanner Pro (image to PDF) and other "capture and annotate" applications.
Unwieldy, sure, but the major improvement in image workflow is huge!
Thank you for signing up to iMore. You will receive a verification email shortly.
There was a problem. Please refresh the page and try again.