CarPlay is at the center of the insane new Koenigsegg Regera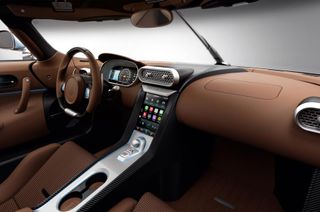 We've seen some automakers like Volkswagen and Chevrolet gear up for CarPlay support already, but seeing it inside an awesome supercar like the 1782bhp Koenigsegg Regera is a pretty sight. There is certainly much to admire in the cockpit, but the CarPlay unit seems to fit right in. That means plenty of Apple goodies like maps, music, iMessage, and of course phone calls will be just a quick touch away. Then again, most of us won't get the chance to try it in the Regera first-hand, as there will only be 80 models made and it will sell for $1.89 million.
If you're looking for a CarPlay solution in your next vehicle, you may want to tone things down a bit from this beauty, but if you happen to pick one up be sure to let us know so we can take it for a spin!
Source: 9to5Mac
Get the best of iMore in in your inbox, every day!
Editorial Director - High Yield
After getting his start writing about BlackBerry in 2008, Adam is the Editorial Director of High-Yield content at Future. Leading an outstanding team, he oversees many of the articles the publisher produces about subscriptions and services – VPN, TV streaming and antivirus software. From buying guides and how to watch content, to deal news and in-depth reviews. Adam's work can be seen on numerous Future brands including TechRadar, Tom's Guide, T3, TTR, Android Central, iMore and Real Homes.
Lets all hope CarPlay doest break down as much as Koenigseggs.

I love how the article has a picture of the interior, yet, we do not have a picture of the actual car. Come on iMore, you are better than this! At least show a picture of the car. I am sure anyone can google it. But still........just saying.

And why does this mean anything? Sent from the iMore App
Thank you for signing up to iMore. You will receive a verification email shortly.
There was a problem. Please refresh the page and try again.