Casio active tech: go outdoors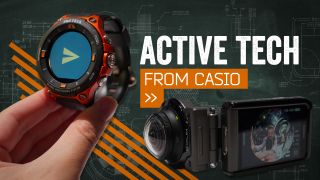 Casio's CES booth held some great tech for the adventurer. The WSD-F20 smartwatch isn't just a weighty name; the watch has improved over its previous iteration. The FR200 action camera shoots in 4K, has an 180-degree viewable angle, and is waterproof, dustproof, and shock-resistant.
MrMobile takes to the forest of CES to seek the tree of tech knowledge. Michael Fisher knows now what the future holds, and imparts that wisdom unto you, adventurer. This ain't no text adventure, get moving with Casio active tech!
Stay social, my friends
Justus Perry is a producer for MrMobile. He still likes Match 3 games, despite their ubiquity. He's also a comedian and actor.
Thank you for signing up to iMore. You will receive a verification email shortly.
There was a problem. Please refresh the page and try again.