Comic: The Cat, the Pendulum and the Camera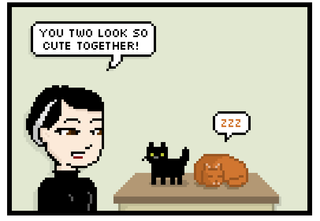 Happy Saturday, iMore! Because Rich is awesome, he's letting us run some of his Mac-themed comics from the Diesel Sweeties archive on weekends. Bonus comics, woo! We hope you enjoy.
Read more comics from the Pixel Project on iMore.com.
Get the best of iMore in your inbox, every day!
Pixel lover and cartoonist. Still have my original Apple IIgs. See more at clango.org or follow him on Twitter @rstevens.
So funny and so true! Sent from the iMore App

You would have to be on some strange hallucinogenic drug to find any of these funny. Sent from the iMore App

People are always cranky in comment sections jeez. Posted via the iMore App for Android

You lack a sense of humor and tack Sloths fight leopards. You can't open a bag of chips. Clearly humans are the weaker species.

Bc these are so far from funny :-/

My cat wouldn't even bother waiting for me to get my phone (since it's the only camera I've got). She'd just immediately stop doing whatever cute thing she was doing that would've made it a great photo (of course lol). So she's notoriously difficult to get good photos of.

Same with my Chihuahua. It's almost impossible to take a good picture.