CES Day 3 round-up: Smartwatches, smartwatches, and smartwatches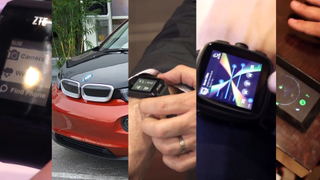 #ceslive — Day 3
presented by
January 9th
There are two things that have been a huge deal at this year's CES: curved UHD TVs and gadgets that you can wear on your person. While we might blog about television sets on occasion here at Mobile Nations, we just so happen to have an entire site dedicate to the latter: Smartwatch Fans. Editor-in-Chief of Smartwatch Fans Adam Zeis was joined by Kevin, Rene and Phil for a podcast on all of the smartwatches announced at this year's CES. This is #CESlive!
January 9th
Archos enters the smartwatch game
If there's one thing Archos is willing to do, it's to tackle the bottom end of any technology market. After plowing into the infant tablet market a few years ago with a slew of Android tablets, Archos is now taking on the smartwatch with three models of their own. They range in price from a $50 model that apes the Pebble smartwatch with a black-and-white LCD, button controls, and 1-2 weeks of battery life, while the high-end model sports a curved E-ink display and only hits $120.
We go hands-on with three new watches from Archos at #CESlive
94Fifty's Bluetooth Basketball
Yup.
Are you looking to bring some tech to your game? Do you need to know just what it is that you're doing wrong on the court? Have you ever wondered what it would be like if your basketball talked to your smartphone and could be wirelessly rechared? Wonder no more, because CES 2014 has brought us the 94Fifty Bluetooth-enabled basketball. Revel in the insanity.
Bluetooth-enabled 94Fifty basketball helps you bring your A-game at #CESlive
Test driving an electric BMW
Plus a conversation about mobility and automotive
BMW showed up to CES 2014 in a big way. They set up a showcase pavilion outside LVCC and offered test drives of the new all-electric i3 runabout car all day every day. The car's a fun little machine to scoot about town, even in the middle of rush hour. We also spoke with BMW's directors of mobility integration and autonomous driving.
Taking a spin in the all-electric BMW i3 at #CESlive
LG talks to #CESlive about their new wearables
Fitness trackers for your wrist and your ears
LG's been in technology big and small, but they're just now getting into technology so personal that it's wearable. The new LG Lifeband Touch is a Bluetooth-enabled fitness tracker, but unlike others in the market it sports call notification integration with your phone, a high-resolution OLED display, and even a touch screen. And despite what LG's dedication to Android smartphones and tablets might look like, LG's open to other things to — the Lifeband Touch works with Android and iOS.
LG talks about entering the wearables space #CESlive
LG Lifeband Touch fitness tracking smartwatch works with iOS
Martians are here
The Martian Notifier at #CESlive
If there's one thing that could be said of most smart watches, it's that they're lacking in style. They often feel more gadgety and techy than like something the average person would allow themselves to be caught wearing. Things aren't necessarily so with the Martian Notifier, which combines analog wristwatch style with smart notifications from your mobile device.
Martian Watches give you notifications in style #CESlive
Checking out the Neptune Pine
Android on your wrist
There have been many approaches to wearables in recent years, but the holy grail has always been a computer on your wrist. Neptune Pine is attempting just that, with what is in essence a smartphone on your wrist. It runs Android 4.2, has front and rear-facing cameras, and a touch screen. You can even pop it off the wristband and use it as a miniature Android device. Adam and John check it out with Neptune Pine's Aaron Wilkins.
Neptune Pine shrinks Android for your wrist #CESlive
Hands-on with the Omate TrueSmart
A smartwatch with a smart screen
If there's one thing you could say about the smartwatches of CES 2014, it would be that they tend to be a little on the gray side of things. Not so with the Omate TrueSmart, which is actually an Android 4.2.2-powered wristwatch with a color screen and a SIM slot so it can operate fully on its own, independent from dependence on another device like your smartphone. In fact, it can do all of the things your smartphone does as a phone, including calls, email, text messages, and more. The TrueSmart will even have its own app store of specialized wrist-sized apps.
Hands-on with the Omate TrueSmart at #CESlive
Raising the desk with Stir
A standing desk that gets you to stand
Standing desks are the smart idea of our time, but they tend not to be all that smart themselves. You can get one that's a full-time standing desk, but that can be tiring in and of itself. For the real benefits you need a lifting desk, one at which you can sit or stand. And you need some motivation — that's where the Stir Kinetic Desk comes in. Not only does it look great, but it was a built-in touchscreen that lets you control the height, plus sensors and active memory that help to track your sitting and standing habits and encourage you to be a better standing worker bee.
This is the Stir Kinetic Desk, the smartest table at CES
ZTE has a smartwatch too
Yet another smartwatch
In case you doubted that 2014 was going to be the year of the wearable, even ZTE is getting in on the game. The newly-announced ZTE BlueWatch is a base-level smartwatch in the most basic of ways: button controls, magnetic charger, four button controls, a small 1.26-inch black-and-white display. It's a lot like a Pebble — we wouldn't fault you for mistaking the two at first glance.
Hands-on with the ZTE BlueWatch at #CESlive
Get more iMore in your inbox!
Our news, reviews, opinions, and easy to follow guides can turn any iPhone owner into an Apple aficionado
Derek Kessler is Special Projects Manager for Mobile Nations. He's been writing about tech since 2009, has far more phones than is considered humane, still carries a torch for Palm, and got a Tesla because it was the biggest gadget he could find. You can follow him on Twitter at @derekakessler.