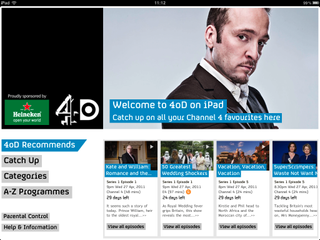 The UK's Channel 4 On Demand Service '4oD' has been released in the App Store for iPad. The app is the only way you can view 4oD on your iPad, and it includes:
wide selection of shows from Channel 4, E4 and More4
huge 30-day catch up window
free and unlimited access to content.
Channel4's archive of shows (both classic programs and shows that aired over 30 days ago) are currently not available but developers have said that they are hoping to bring these to the iPad soon. US shows that air on Channel4, E4 or More4, are also currently not available.
The app, only available in the UK, is free for a limited time only so be sure to pick it up soon and let us know what you think!
[FREE - iTunes Link (opens in new tab)]
Writer for iMore, YouTube Vlogger, and Host for [TEChBrits]
Shame i couldn't get it here in Canada. i love watching the show Misfits.

They need to do an iPhone app as there are some really good shows on 4od and if was in the iPhone it would be awesome. Hopefully it will come, very soon

As an expat, really wish they'd bring this app to US.

No iPhone version though???
Seems odd, is this a trend moving toward developers making an iPad only or iPad first version of their app?
Get the best of iMore in in your inbox, every day!
Thank you for signing up to iMore. You will receive a verification email shortly.
There was a problem. Please refresh the page and try again.