Chevrolet expands Siri Eyes Free support in more 2014 cars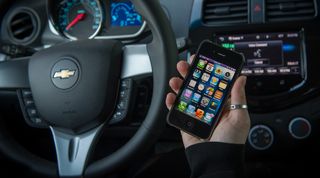 Chevy announced last week that it is expanding the number of its car models that will ship with Siri "Eyes Free" support. After making a successful debut on this year's models of the Chevy Spark, Spark EV and Sonic, Chevy is expanding support to include more models, according to a press release.
For 2014, Chevy will add Eyes Free support to the Camaro, Cruz, Equinox, Malibu, SS and Volt models. The connectivity happens through the Chevrolet MyLink Infotainment System on these models and requires a Siri-equipped iPhone running iOS 6 or iOS 7.
Once you pair your iPhone to the MyLink radio using Bluetooth and a voice activation button on the steering wheel, you can use Siri to make hands free calls, play songs, switch music sources, listen to and compose iMessages and text messages, access your Calendar and add appointments, all without taking your eyes off the road.
Source: The Loop
I wonder if this applies to any other GM brands? I was under the impression that the Chevy MyLink and the Buick Intellilink were really the same thing with a different name.
Is Siri Eyes Free just a part of what Apple is calling iOS in the car?

As of right now, we have only heard about Chevrolet getting this feature, but that could change at any time. Granted the Chevrolet MyLink and Buick/GMC Intellilink systems are essentially the same, there are some "slight" differences. But, this is simple programming and could possibly be pushed out later via an update through the dealers. While this integration is awesome, you were able to essentially do the same thing through the older bluetooth system prior to MyLink/Intellilink. If you had an iOS device paired via bluetooth with a GM vehicle, you could press the handsfree button, give it the "Bluetooth" command, and then the "Voice" command. Doing this would activate the phone's voice control system.....in Apple's case, Siri.

Sad that you can access Siri on pre-Intellilink systems. I have not been able to figure out how to access Siri through my Intellilink system.

I totally understand.....I trained dealer staff on how to use the Intellilink systems for Buick | GMC. I will say that iOS integrates extremely well with Intellilink but you get the most from it if you have it tethered to the USB port in the vehicle, especially if you want to use the voice control system of the vehicle. If you want to do things such as call a contact or pull up a song/artist/playlist in the music app or use Pandora, Intellilink is great for this.

I've used the "bluetooth", then "voice" commands to access Siri for the last 2 cars I had (2011 Equinox, and 2014 Encore)
This also worked with my brother's 2011 LaCross.
Recently, I swapped out my existing "radio", for an official GM radio with Nav, purchased from a company in North Carolina. The nav and everything works perfectly, however, it doesn't recognize the command "voice" anymore. How can I access Siri with my Intellilnk?
Get the best of iMore in in your inbox, every day!
Thank you for signing up to iMore. You will receive a verification email shortly.
There was a problem. Please refresh the page and try again.