Comic: Hey Now, You're a One-Star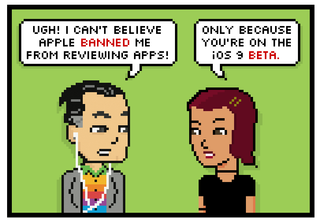 Ed: Welcome to this week's edition of The Pixel Project: a weekly comic from Diesel Sweeties' Rich Stevens on Apple, technology, and everything in-between. Today: Hey Now, You're a One-Star
Read more comics from The Pixel Project.
Get the best of iMore in your inbox, every day!
Pixel lover and cartoonist. Still have my original Apple IIgs. See more at clango.org or follow him on Twitter @rstevens.
I'm here for the title. It's perfect Google knows why kids love the taste of cinnamon toast crunch. And they're willing to sell it to you.

Haha, nice comic, Rich! More to the title...
Hey now, you're a one star, I'm on a betaaaaa
Hey now, you're the developer, why can't I playyyyy
All these bugs and re-springsssss
Only whining is how I'll be heard

But what if he decides to file unfriendly bug reports?

My experience with Apple was that filing bug reports resolves nothing. Apple isn't unique in that behaviour, but it doesn't really help with wanting to go to all that effort either.