Comic: Siri is More Human Than Human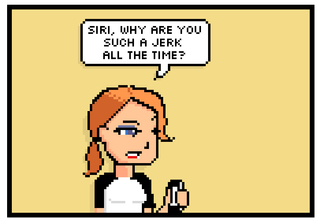 Happy Saturday, iMore! Because Rich is awesome, he's letting us run some of his Mac-themed comics from the Diesel Sweeties archive on weekends. Bonus comics, woo! We hope you enjoy.
Read more comics from the Pixel Project on iMore.com.
Get the best of iMore in your inbox, every day!
Pixel lover and cartoonist. Still have my original Apple IIgs. See more at clango.org or follow him on Twitter @rstevens.
So true! That's the secret of happiness!! Sent from the iMore App

Oopsy! Page always cuts off before the punchline on these for me Sent from the iMore App

Lqumb... Sent from the iMore App

My wife thinks that Siri doesn't like her. She got to the point that she changed the Siri voice because "now it's a different person".

Rich Stevens = Rene Ritchie pseudonym. Sent from the iMore App

Could Siri be telling her to stop being irritated so often?