Comic: Touchscreen Macs and Mousy iPads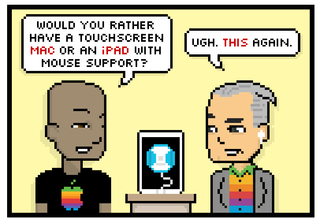 Read more comics from The Pixel Project.
Get the best of iMore in in your inbox, every day!
Pixel lover and cartoonist. Still have my original Apple IIgs. See more at clango.org or follow him on Twitter @rstevens.
It is "snobbish" that Apple doesn't let you "think different" anymore. No way to to turn off automatic text animations on holidays (I don't need fireworks for every "Happy New Year/4th of July/Birthday", reduce motion has an option to keep those animations, they could easily give you an off for that. No way to "think different" with my own hosts file (without Jailbreaking with a suspect Chinese program) that blocks ALL Spybook data, without using a local VPN that disconnects. No way to have spaces on my homescreen. No way to have a weather app that shows the current weather as a notification counter on the homescreen. No way to remove certain apps, or use a fingerprint which would've been great on the back of the phone. No way to have BTSync/GooglePhotos/OneDrive autobackup my photos. No way to have permissions be forgotten after closing an app, similar to Bouncer. No way to block apps from going online if you know they don't have to. No way to close all background apps at the same time. I want my apps closed because I "Think Different" yet they won't let me. Can be a privacy thing if the app has your location, and you're done with it, but now you have to dig through your recents. No way to develop apps for it if you "think different" and want a less expensive, more powerful computer than the ones Apple makes. There's a lot of uniformity they push.

These points do only apply to iOS/watchOS/tvOS, the Macs still allow you to think different outside of the repairability issues. iOS seemed to be designed from the get-go to do all the leg-work for you, with the downside of not having customisibility. It has its upsides and downsides, I think what everyone wants is some sort of "developer" toggle, which opens up the ability to pretty much do whatever you want like a jailbreak. It's a bit of a pipe dream, but this is why many people own Macs but have Android phones. I can deal with the limitations (just about) of iOS devices but I can understand that many people can't. The good thing is that iOS does become more customisable with each release, so there's still hope. The Shortcuts app opens up a lot of new possibilities

"Windows laptops do touch screens just fine" Depends what you mean by fine, many Windows apps are still not optimised for touch. It's fine if you can pick and choose your apps, but after all this time there should be very few apps which don't have a touch-optimised interface or a version of the interface designed for touch.

I use touch EVERY DAY. It works great. I have a fully touch monitor at my desk, my 2 in 1 is obviously touch, and pretty well everything I do I use my touchscreens for. With windows you CAN pick and choose your apps. Unlike the walled garden. But your comment is not correct anymore. Everything windows is touch ready and works better than good. They work great. I edit my photos, videos, create graphics for websites, articles, music and more using only my touchscreen for manipulation.

You can pick and choose your apps on macOS as well, just not iOS. I was more referring to people who require certain apps for work, or that have no good alternative. All of the standard Windows apps are touch-ready which is great, but there are still many apps out there that aren't.

I use many different pieces of software like corel, polarr etc and it all works awesome with touch and pen.
Thank you for signing up to iMore. You will receive a verification email shortly.
There was a problem. Please refresh the page and try again.