Digital Offers: Create perfect photos for $39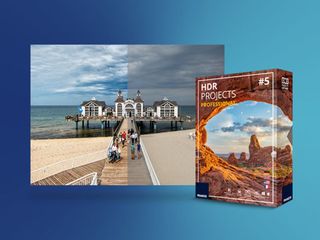 As technology gets better and better, one smartphone feature is perennially important: the camera. It seems like humans are always searching for the perfect photo; we want to be able to capture what our eyes see, not what the camera lens sees. This can be pretty difficult, especially with certain cameras, so where do you turn? Do you just carry around a DSLR all the time? Sure, but does a DSLR even capture what your eyes really see?
Create beautiful photos for $39
Learn more
Post production is where it's at. Sure, taking a photo in the moment is "real", but there's nothing wrong with working on a photo after you've taken it. In fact, photographers today aren't strictly photographers anymore — they're now graphic artists as well. There's nothing wrong with altering an image after you've taken it. For one, you've taken it, so it's your property. For another, you can turn some "meh" photos into "WHOA" photos.
HDR Projects 5 is just the software that can help you create amazing photo moments from everyday pictures you've taken. HDR stands for "high-dynamic-range", which is used to display a greater range of luminosity to better mimic what the human eye sees. HDR Projects 5 provides you with 155 presets developed by experts, which can help punch up even the dullest photos. This software retails for $149, but at iMore Digital Offers, you pay $39, a savings of 73%.
HDR Projects 5 helps you get clear HDR images without a ton of image noise, which often happens when you artificially enhance the lighting in a photo. New software can be scary, but HDR Projects 5 affords you the familiarity of being able to plug it into Photoshop or Lightroom. You can remove elements from a photo, while adding it to another using the Composing function, and HDR Projects 5 never forgets what you upload, so you won't ever lose a photo.
Create beautiful photos for $39
Learn more
If you're tired of showing people dull photos or if you're looking to get into professional photography and need a great tool for creating gorgeous photos in post production, then check out HDR Projects 5. Just don't pay $149, when you can get it for $39 at iMore Digital Offers.
Get more iMore in your inbox!
Our news, reviews, opinions, and easy to follow guides can turn any iPhone owner into an Apple aficionado
Your source for all things Apple