It doesn't matter how large or small your screen is. Whether you're using a portable gaming device or working off three huge computer monitors, you could always use a little extra real estate. The Lepow 15.6-inch 1080p USB-C IPS portable computer display is down to $109.99 as one of Amazon's daily deals. The display normally sells for around $170, and it has never dropped this low before. The deal is only good through the end of the day, so be sure to grab one while it's going this low.
Full Screen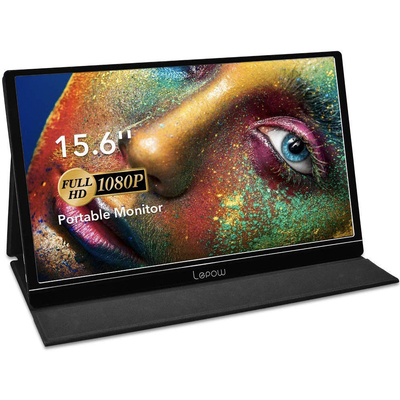 Lepow 15.6-inch 1080p USB-C IPS portable computer display with HDMI speakers
Use the mini HDMI or USB-C ports to connect your mobile device, gaming console, laptop, or other device and add a bit more real estate wherever you are. Comes with a smart cover and screen protector. Has a slim profile so it's easy to travel with.
$109.99 $170.00 $60 off
The 15.6-inch monitor will display all your extended media in 1920 x 1080 pixel resolution with support for high-def entertainment and gaming. It comes with a smart cover and a screen protector. The cover bends and folds itself so it works like a stand, too, when you need to tilt it a bit. It's made with PU leather and provides excellent protection. The screen protector acts as a film over the glass to keep it from being scratched.
This is a super portable display. It's only 0.3 inches thick and weighs 1.76 pounds. You can take it with you anywhere and easily connect it when you need just a bit more space. Think of it like a dual monitor you can use on the go.
It has a mini HDMI port and a USB-C port. Use these to connect your other devices to the monitor. You can connect just about anything from a laptop or computer to a gaming console like the Nintendo Switch or your mobile device or tablet. It even has two built-in speakers so you can display multimedia files and listen to the audio. Watch movies, play music, or play video games.
This is a one-day deal! It might even sell out long before the day ends.
We may earn a commission for purchases using our links. Learn more.