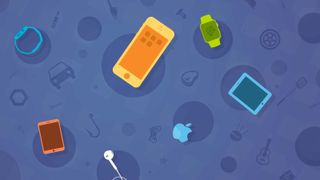 Dad can be a tough guy to buy for, and he's not always forthcoming with the list of things he'd really like to open on Father's Day. Gone are the days of socks, ties, and golf shirts; time to usher in the era of tech.
Look no further for Father's Day gift-giving inspiration.
Philips Hue
Make Dad the master of the lights with a smart lighting system from Philips. If Dad's already a fan and user of Apple HomeKit, the Philips Hue works perfectly with it; if he's new to this kind of household technology, the system operates with the Philips Hue app on the device of his choice.
As long as Dad's connected to the internet, he can control the lights for the entire house. Concerned about trespassers when everyone's out? He can turn up the kitchen and living room lights to trick them into thinking someone's home. Forgot to turn off the bedroom and bathroom lights on his way out the door? He can turn them off once he's arrived at the office. We bet he does this on purpose for awhile, just for the fun of it.
There's a virtually endless list of add-ons for Philips Hue, from the basics of the Starter Kit (opens in new tab) to the Beyond (opens in new tab) package. If Dad is in need of a project around the house, this is the one that will also keep him entertained and busy.
See at Amazon (opens in new tab)
Sonos
For the dad who's a music or movie buff, give him the gift of sound. The wireless speakers and home theater selections from Sonos are ideal for the dad who loves cinema and a great soundtrack.
Sonos is a brand known for easy set-up, so even if you're Dad's personal tech support guru, you'll have it up and running in no time. He'll be master of the single app that controls everything from music streaming to personal playlists to theater surround sound. The speakers come with analog audio input so that Dad's stacks of CDs can have the Sonos experience too. Pictured here is the Sonos PLAY:5, a great starting place for building a stellar sound system.
Sonos Trueplay, which matches sound to the size of the room, won't distort songs, even if Dad's rocking out in a tiny man cave. The digital amplifiers and speaker drivers mean the sound is as pure as pure can get, and movie night never sounded so good.
See at Sonos (opens in new tab)
PlayStation 4
Why not get something for Dad that you'll both enjoy? If you're still at home, be honest: you're going to use it just as much as he does. If you've flown the coop, getting Dad his own PS4 will keep the two of you connected and competitive as ever.
He'll have access to a massive game library and great movie and sports apps too. The DUALSHOCK 4 wireless controller has a six-axis sensor and touch pad, so even the seasoned gamer-Dad will have a new experience to look forward to. The SHARE button allows him to tag segments of play to share on social media, or he can broadcast the game live so that the whole family can see him take a victory lap. (You have to let the old man win sometimes, right?)
Take your pick of customized bundles when you're making your purchase; some console and controller systems come in limited edition colors and designs to match up with favorite games.
Fitbit Charge HR
Whether Dad's a seasoned athlete or just decided to take up running last week, a Fitbit makes a solid gift. The Charge HR has a built-in heart rate monitor and a long battery life that will track Dad's activity for up to five days without needing to be plugged in.
Dad's got two tracking options with this Fitbit: SmartTrack will automatically recognize and record when Dad starts working out, and Exercise Mode will compile all of the day's efforts into summaries within the app. The Charge HR has caller ID, tracks sleep patterns, and sets silent, vibrating alarms (which are much nicer to wake up to).
It's rain, sweat, and splash-proof. The wristband is also available in small, large, and extra large, so the Charge HR is guaranteed to fit Dad to a tee.
See at Amazon (opens in new tab)
Apple TV 4
Apple TV just keeps getting better, and it's time to get Dad in on the action. The fourth generation of Apple TV uses Touch and voice as controllers for the interface, and it's as user-friendly (hint: Dad-friendly) as it gets.
The Touch surface on the Siri Remote is a sensitive tracking pad, meaning Dad will never fumble for another remote control button again. The Remote app for iPhone works the same way, so he can actually have two awesome remotes in hand. No more hunting around for letters to enter into the search fields either: use the Dictation feature to enter text in the search fields and save on time.
The Home screen is completely customizable so that favorite apps appear at the top of the screen and stay put until Dad says otherwise. If you thought he was in charge of the TV before, you haven't seen anything yet.
See at Apple (opens in new tab)
Apple Watch
A watch is always a great gift idea, but an Apple Watch is an exceptionally great idea. If Dad is due for a new gadget (or has been looking at yours lately with green-eyed envy) this is the one to get.
All of his call and message notifications will be right there on his wrist. The Watch will track his fitness goals and keep an eye on his health, even when he forgets to. The Apple Watch is available with 38 or 42mm cases, in aluminum or stainless steel, so you can get just the right look for Dad and, between the faceplates and the bands, there's no shortage of ways to customize the Apple Watch to suit Dad's style.
There's also no shortage of accessories for the Apple Watch. Dad can treat himself to a few must-haves for himself, or you can gift him the accessories for the next special occasion.
See at Apple (opens in new tab)
August Smart Lock
The whole family will benefit from the August Smart Lock, even though the card says it's for Dad. No more worrying about lost keys or wondering who's been in and out of the house now that there's a smart lock on the door.
The August Smart Lock works by itself or within the Apple HomeKit; it's up to you. Just make sure you order the version you want. It uses the existing hardware on a door, only replacing the interior side of a standard deadbolt. Once installed, Dad can set it to automatically lock when someone leaves and automatically unlock when someone approaches the door, as long as their iPhone or Apple Watch is in a pocket or purse.
The August Home app is the control center, allowing Dad to "create" keys, grant access to the house, and view the activity log of who's been home (or not).
See at Amazon (opens in new tab)
SteelSeries Nimbus wireless controller
What do you do when you've already bought Dad some of these gifts, or he went out and bought them for himself? You accessorize. The SteelSeries Nimbus wireless gaming controller was built with Apple TV in mind but also works for games on iPad and iPhone.
The Nimbus provides over 40 hours of game play without recharging and the ergonomic design makes it an easy fit for Dads who enjoy gaming and are used to certain controller styles. It has features you'd expect to see, like analog sticks on the left and right and color-coded action buttons.
The Menu button also lets Dad use the controller as a remote for all the non-gaming apps and features on the Apple TV. It's mighty-hard to lose this remote, so Dad can say goodbye to searching the sofa cushions once the Nimbus is his go-to tool.
See at Apple (opens in new tab)
iGrill2 Bluetooth thermometer
Does your Dad think he's king of the grill? Give the grill master the gift of technology with the iGrill2 Bluetooth thermometer.
The 200-hour battery life will last through many a BBQ with no need to recharge. The iGrill2 has a range of 150 feet and is compatible with iOS devices for accurate temperature readings. It has a magnetic mount and four-probe capability to monitor more than one temperature at a time. Dad can easily customize the temperature alarms so that everyone's steak is cooked just the way they like it.
Being able to see the temperature increases on his iPhone or iPad means Dad won't constantly have to lift the grill lid and he can pop back into the house without leaving the delicious meat entirely unattended.
See at Amazon (opens in new tab)
ecobee3 Smarter Wi-Fi thermostat
Help Dad to save on his energy bills with the ecobee3 Smarter Wi-Fi thermostat. It's Apple HomeKit-enabled so Dad can control the temperature in the house using Siri on his iPhone.
The ecobee3 senses when no one's home, so the temperature will automatically be turned down. It even provides live weather reports so that you can adjust your climate settings before the humidity or blizzard strikes. The thermostat and sensor that come with the basic package install in under one hour so Dad can put his gift to use right away.
Up to 32 sensors can be added to a single thermostat unit, so either you or Dad can keep building a home climate control system.
See at Amazon (opens in new tab)
Get the best of iMore in your inbox, every day!