The Fnatic Streak LED backlit RGB mechanical gaming keyboard has dropped to $84.99 on Amazon. The keyboard normally sells for $130. It has only gone on sale once before and that time it dropped down to just $100. Today's price is the lowest we have ever seen and $45 better than its usual price.
You can also get the Fnatic miniStreak mechanical keyboard on sale today. It's down to $79.99 from a regular price around $100. This keyboard is tenkeyless and uses Cherry MX Blue switches.
eSports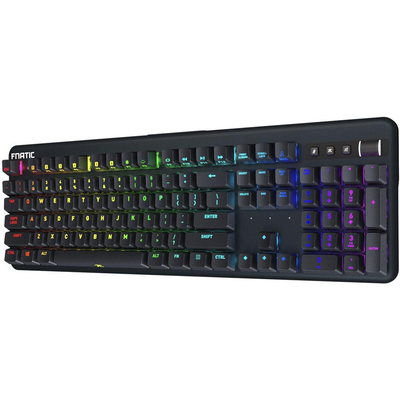 Fnatic Streak Cherry MX Red LED backlit RGB mechanical gaming keyboard
The Streak has full LED RGB backlighting with eight lighting modes and free software for infinite customization. The Cherry MX Red switches are reliable up to 50 million keystrokes and are dust resistant. Super light and slim with a wrist rest.
$84.99 $130.00 $45 off
The Fnatic Streak uses premium Cherry MX Red mechanical switches in the keyboard. These are clicky without being too loud and are reliable up to 50 million keystrokes. That's a lot of pressing of keys. You'll be okay for a while. Each key is dust resistant and fibre glass reinforced with self-cleaning contacts. There is also a USB port on the back of the keyboard with pass-through capabilities so you can plug in another peripheral like your mouse.
The keyboard is super thin and light. It has a razor thin 28mm profile and only weighs 962g. That makes it super portable even though it's a full-size keyboard. It uses an anodised top metal plate so it's still super durable, and the rubber feet on the bottom help it keep its grip despite the light weight. It also comes with a PU leather wrist rest with three adjustable levels for maximum comfort.
The lighting is full RGB. The LED backlighting features eight lighting modes that are easy to activate, and you can find any color you want through the 16.8 million options. Use Fnatic's free software for infinite customization. The software also helps you program the mappable buttons, create custom macros, develop unique actions, and more.
Fnatic is an eSports organization, so this keyboard was designed by gamers with gamers in mind.
We may earn a commission for purchases using our links. Learn more.