Ford is bringing CarPlay to all 2017 models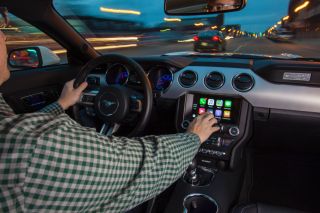 Ford has announced the Sync 3 infotainment platform, adding support for CarPlay and Android Auto. The carmaker has announced that all 2017 models — starting with the Escape — will come with the infotainment unit as standard, and that 2016 models will be able to upgrade to the system later this year.
Also announced were several new additions to the manufacturer's AppLink platform, which gives apps direct access to a vehicle's data:
AAA/CAA: The app for AAA members in the U.S. and CAA members in Canada uses vehicle GPS data to allow users to access fuel prices, locate fueling stations and use the Here2there route planning feature, which includes traffic, on the move.
Concur: Upon starting a Ford vehicle, Concur users receive a prompt asking if they want to log a business trip. The app then starts clocking mileage from the odometer using vehicle data. Each time the car is turned off, this constitutes one trip recorded in the Trace Trip Journal. At the end of the day, the journal is complete, and the driver is prompted to reconcile the day's trips.
Eventseeker: Users can discover events from behind the wheel that fit their interest profile based on vehicle location data, finding out more about artists playing nearby, wherever they travel in their Ford vehicle Cityseeker: Vehicle GPS data brings the best restaurants, nightlife and other attractions in more than 500 cities worldwide directly to the driver.
Tencent Chelian: Drivers can access China's most popular social media platform, QQ's messaging app, as well as music, real-time traffic conditions and streaming radio.
In addition, Ford has announced Sync Connect, which allows you to remotely start, unlock the doors of your car, as well as checking its fuel level and parked location, all from your iPhone.
Source: Ford
Get the best of iMore in in your inbox, every day!
The clumsiest man in tech.
Stalkers... Sent from the iMore App

You are going to need this!!, FORD-Found On Road Dead, to call for HELP all the time.

As a Ford owner I can only say not before time! The shame is that I'd have to get a whole new car to benefit from this so perhaps I won't be getting to use CarPlay any time soon. I've got a 2013 Fiesta ST, it's a great car but the audio system is from the dark ages, it's sluggish and unresponsive and whilst you can use the car controls to navigate your music library, given that it shows 3 items on the screen at a time and I've got 3000 songs on my iPhone, I'll have crashed long before I find the music I want!!!

AT&T's network just isn't ubiquitous enough anywhere in the country yet for on-road streaming video, online gaming, etc etc.
Thank you for signing up to iMore. You will receive a verification email shortly.
There was a problem. Please refresh the page and try again.