Siri Eyes Free support lands inside Ford vehicles with latest SYNC update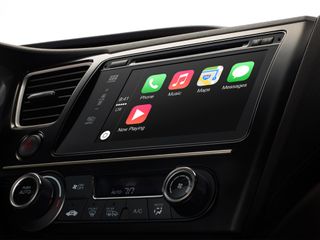 Ford has announced that the car maker is currently rolling out a software update for the company's SYNC software. This update will hit more than 5 million vehicles, adding Siri Eyes Free capabilities for hands-free access to iPhone features. After installing the software update, those with a connected iPhone will be able to activate voice recognition through a button on the steering wheel - much like long pressing the home button on the smartphone.
Siri would then be able to place calls, look up phone numbers, set a remainder or alarm, detail a weather report, manipulate media playback, send and read out SMS messages, or even configure Apple Maps for turn-by-turn navigation. The software download will be available through Ford's online platform and those with models ranging from 2011 equipped with the second-generation of SYNC (MyFord Touch) are eligible.
Source: Ford, via: Apple Insider
Hey Honda! How 'bout you guys doing something like this also? Or at the very least let me pay $$$ to swap out your craptastic "entertainment" system for the new carplay systems?? <sigh> Really it is unprecedented that a car manufacturer is rolling out an update to a stereo system, normally a 3rd party afterthought. Kudos to Ford on this. The Honda in-dash stereo would have to come alive and start killing passengers with targeted electric bolts before Honda would ever make the slightest change to its software...

Your comment is regarding Honda incorporating CarPlay but the article is only about Siri Eyes Free. Those are 2 different things. I own a Honda (Civic SI, 2015) which support Siri Eyes Free but doesn't have anything to do with CarPlay... which I'm hoping they will finally implement in a new model.

Thank God! Hopefully Ford will do a better job of keeping Sync updated in the future too.

Not chance Chevy does this with myLink aka noLink Sent from the iMore App

I have a 2016 Honda Accord and Apple CarPlay and Google Auto are both included as standard features in LX models and above. I use CarPlay daily and I love it. Sent from the iMore App

Found On Road Dead, no thanks. Sent from the iMore App

So now the mustangs got even more tempting.... :-p Posted via the iMore App
Thank you for signing up to iMore. You will receive a verification email shortly.
There was a problem. Please refresh the page and try again.