Former BlackBerry CEO Thorsten Heins, now at Powermat: "We want to liberate people from charging cords"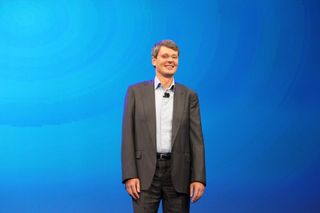 Former BlackBerry CEO, Thorsten Heins, is now CEO and chairman of wireless charging company Powermat. Founder Ran Poliakine will now take the seat of Vice Chairman but still be heavily involved in evangelism and other strategic partnerships. After about a year hiatus since leaving BlackBerry, Heins is once again ready to take charge in attempts to scale Powermat to a new level of not just wireless charging hardware, but a worldwide wireless charging network. He's only been in the big chair for a few days, but our own Kevin Michaluk scored some time for a quick chat and Heins' take on what's to come for Powermat.
When many of us think Powermat, we think of wireless charging pads and special battery doors for smartphones and other devices. We don't typically think of wireless charging stations in places like Starbucks — which officially debuted today. Heins says that these are a big part of Powermat's vision going forward though, just one piece of an extensive wireless charging network that Powermat is aiming for long-term. As Heins now takes the wheel, he is looking to focus on scaling the company and working towards more than just charging pads for smartphones.
The wireless charging industry is huge business, says Heins. Powermat is leading the charge to create a wireless network that will untangle consumers from smartphones and tablets, bringing charging stations to places like Starbucks, airports, and even inside cars. Heins notes that "the intention clearly is to build something big and meaningful."
Coming from BlackBerry, Heins now controls a much smaller team of only around 100 people. It doesn't matter to him though, and he says this is what he likes — building something else. At BlackBerry he helped build BB10 and BES12, and now with Powermat he looks for the long-play of creating a vast wireless charging network (among other things). While many people know Qi as a standard in wireless charging, Heins knows that they're competing with standards, but he also knows what needs to be done. "In early markets you're always competing standards, it was true in digital communication, it was true in video, it was true in DVDs, and that needs to be played out." He goes on to say that, "at the end of the day it's not that much about the standard, it actually really is about building a charging network, and then connecting these charging spots and making benefits and services out of that."
So Powermat is more than just charging pads — they're setting out to be the charging network. The play is for the long-term, but Heins has the vision and focus to get the company to where it needs to be. He's passionate and excited for the new role, and ready to take Powermat to the next level. There are still unknowns for the new CEO, "but that's the adventure in it."
"We really want to liberate people from charging cords via tablet, desktops, smartphones," says Heins, "the idea is really to provide power everywhere you need it, through the surfaces and through the charging network."
Get the best of iMore in your inbox, every day!
Editorial Director - High Yield
Getting his start writing about BlackBerry in 2008, Adam is the Editorial Director of High-Yield content at Future. Leading an outstanding team, he oversees many of the articles the publisher produces about subscriptions and services – VPN, TV streaming, and antivirus software. From buying guides and how to watch content, to deal news and in-depth reviews. Adam's work can be seen on numerous Future brands including TechRadar, Tom's Guide, T3, TTR, Android Central, iMore, and Real Homes.
"There are still unknowns for the new CEO " Story of his life . My money is on Qi

Crackberry?? Sent from the iMore App

I certainly don't use a Blackberry anymore, I used to along side my iPhone but those days are done. Wireless charging for me would be an annoyance because I like the option to charge as I am using my device. I can't seem to put it down long enough lol

I totally agree! I love my iPhone 6 and the battery life is damn good . I would like to see Apple do something with Qi, though. Sent from the iMore App

It's too early for wireless charging. I don't see it as something useful right now. All wireless charging pads re too clunky to be taken with me so for now I'll always need a cable. In the future though I should just be able to put my iPhone on a wireless charger when I get home and then pick it up 5 Minutes later and use it again fully charged. Sent from the iMore App

You'll get it apple will release a proprietary charging standard :/ Posted via the iMore App for Android