Giveaway: Apogee Jam for iPhone and iPad!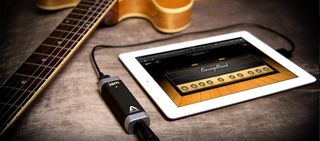 Apple has just released GarageBand for iPhone and TiPb has just created an iPhone and iPad Music Makers Forum, and in honor of both events -- we're giving away an Apogee Jam! It's a pocket-sized, plug-and-play music interface that lets you connect your guitar right into your iPhone or iPad (or Mac).
Want one for your very own? All you have to do is jump into the official contest thread in our new iPhone and iPad Music Making Forum and tell us what kind of music, DJ'ing, or jamming you do with your iPhone or iPad. (And I mean details! Rocking out with your guitar, getting the wedding crowds out on the dance floor, making crazy Ramen noodle loops, what?)
Ready, set... Enter now!
Hat tip: Thanks to Jim Dalrymple for the recommendation!
Get more iMore in your inbox!
Our news, reviews, opinions, and easy to follow guides can turn any iPhone owner into an Apple aficionado
Senior Editor at iMore and a practicing therapist specializing in stress and anxiety. She speaks everywhere from conferences to corporations, co-host of Vector and Isometric podcasts, follow her on Twitter @Georgia_Dow and check out her series at anxiety-videos.com.