Giveaway: 3 Deluxe licenses for iPad/iPad2 Video Tutorials by Made Simple Learning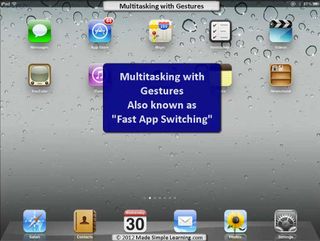 Got a new iPad, and still not sure of all the ins and outs that come with it? Or, are you in charge of your company's iPad rollout and puzzled over how to get everyone trained easily and efficiently? Made Simple Learning has compiled 65 video tutorials for your iPad/iPad 2 with topics ranging from what the buttons do, to battery life tips, typing tips, and tons more. They can deploy videos to your servers behind your firewall, and to your mobile device so you can view them while on the go. They offer multiple licensing options to fit your needs:
$39 Standard - 1 user view on your computer for up to 1 year
$49 Deluxe - 1 user view on your computer & ipad for up to 1 year
$1,295 Corporate - unlimited users - install on one server
$3,395 Enterprise - unlimited users - install on multiple servers
Until Friday, January 20th, use coupon code 76E421D9E4 while checking out to save 15%, even on Corporate and Enterprise packages.
Courtesy of Made Simple Learning (opens in new tab) we have 3 Deluxe licenses to give away this week. To enter, leave a comment below and tell us why you want to win. How would these videos help you or someone you know with their iPad or iPad 2?
Acutally i dont have ipad so don't know about deluxe and it's packages.
but i know this trem 4 know.

I'd like to win a Deluxe license to give to my parents for their original iPad. All they pretty much use their iPad for is doing crossword puzzles (my Dad) and playing Scrabble (my Mom). Sure, my Mom puts her iPhoto pictures on it and brings the iPad to my great aunt at her nursing home, to show her some pictures. But there are so many more uses for the iPad, and I believe these tutorials would be a huge help to them! :)

Just got a new ipad2 on the 11thand would hope for some training videos to watch so i can spend more money on accessories

And so are ipad3 ipod6 and so on.

My nephew recently started playing with the iPad but he doesn't know the functions properly. It would be great to have these videos with the help of which he can learn properly! Thanks!

Just got my first iPhone and then my first iMac, so the iPad is next and I would definitely use the tutorials!

It will help me to use my ipad more efficiently

We just got 140 iPads for my kids grade school, would love to be able to teach the teachers how to use them.

It would be great to have these videos with the help of which he can learn properly!It will help me to use my ipad more efficiently. Thanks!

I would love to share my experiences and skills with the youth od today. This would be a great tool.

Would love to learn as much as I can about my iDevices, and I think this could be a great help in that

Miy parents just retired, one has an iPhone and the other has an IPad. I also have an IPad. To be able to utilize our devises more fully and grasp a basic knowledge would be greatly appreciated. Thanks for the chance. CP

We are using several ipads in the school I work at and the videos would be helpful to show the students.

I have used these videos before when I bought my parents an ipad and threw the videos in as another surprise. My parents LOVED the videos and are now iPad experts! I currently work for a childrens network and I have finally convinced our board that the kids would benefit from having ipads and this would be an excellent way for them to utilize the training and use these ipads! I am SOOOOOO excited I hope we win!!!!! I love you guys!!!!!

I am a new teacher and I am very excited about the new iTunes U and Ibooks2 and all the wonderful apps that I can bring to each and every one if my students through the iPad. I just need to learn how to do this. Help me!

I would like to win this so that my wife and I can learn to use our iPads better. I think there are probably some things that we have missed out on in the OS.

i am always showing people how to use their devices. This would help me to learn even more to be able to help others.

I just started a new business - one of the first purchases for it were iPads and the ability to make videos of our events would be amazing!

Since I'm gonna give my mother my current IPad2 once the IPad3 comes out it would help her learn how to use it better since I'm not the most patent teacher.

New to the ipad and would love to find out about those "how tos" that are not covered in other posts. Thanks for this opportunity.

I would like to win. Need to learn more about my ipad.

This would be great . I would use to help my mom and my aunt.

For a site that is supposed to be Technology Agnostic how come the MSL folks have such a crappy web site ? The entire site loads into the left half of my browser IE and FF. Looks very bad. If they cant spend the time on a decent site that adheres to standards what's that say about there products ??? Just sayin

I'm a new user for apple plus I feel like I'm in kindergarten in reference to the iPad. This would help aloottttttttttt

My mother just got an iPad for use working with learning disabled kids. This would be great to help her utilize it to its maximum potential- would really help the kids!

I am the Apple User Group Ambassador for our community Mac user group. If I had access to this series I would use it to share among our members... so many on them are newbies to the iPad and this would save me all the hours I spend training with no personal gain

You've got great insights about ipad video lessons, keep up the good work!
Get the best of iMore in in your inbox, every day!
Thank you for signing up to iMore. You will receive a verification email shortly.
There was a problem. Please refresh the page and try again.