Keep your gloves on but still use your iOS device with GloveTips [video]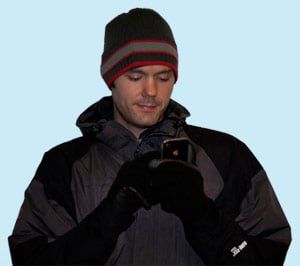 You can imagine the scenario, you are out in the freezing winter weather, your iPhone rings and you can't answer it; you can if you remove your gloves or use your nose but that is not a great solution. Well GloveTips may have the answer.
Yes you can already buy purpose made gloves that you can use with your iPhone. The main difference is that you can use these with your own gloves. The videos after the break show how well GloveTips appear to work and also how they are fitted to your gloves. Not sure how well GloveTips will hold up if your gloves get wet or need washing.
GloveTips are available now at a price $19.99 for a pack of 3. Can you see yourself using this solution? Let us know in the comments.
[GloveTips via Pocket-lint (opens in new tab)]
UK editor at iMore, mobile technology lover and air conditioning design engineer.
I could see myself using it while skiing. Otherwise I'll just take of my glove or answer a call with mh nose.

Wow. That's pretty cool. But, I don't know if i want that material bunched up inside the glove finger. I don't like foreign objects inside my gloves. And it also looks weird on the tip of the glove. Doesn't look natural. I think i might pass on this one.

I will admit to being curious, but I would like to see a video before I take the plunge.

@West
A video of what? The first video is a demonstration of the glove tips...

Recently i discovered that tree sap on a pair of gloves actually allows you to use your iPhone with the glove on a everything (My family runs a christmas tree farm and tree selling business) Thought this was kinda interesting!

Kudos to these guys for making a simple product that works. Most of us could do the same but are too lazy. Lol

Pretty cool, but I'm not sure I would want to puncture a hole in my gloves just for this.

These actually seems pretty cool, but since I live in Los Angeles it's never really cold enough that i would have to wear gloves

or you can just buy these Isotoners: http://tinyurl.com/2uh78wj

I just bought the North Face eTip gloves from Nordstrom. Like them so much I got my sis a pair for Christmas! I would be willing to try this as well.

I use my nose very often for this. I have also found that the iPhone 4 will allow you to use the nose better than iPhone 3GS.
I think the solution is an elastic ring you wear around your finger with the glove on. On the top, where the diamond would be, is a black raised object with a rubber substance or like a banana peel. The "ring" can be rotated so that the "diamond" is not stocking up.

I live in Alaska and these would be awesome to have. It really sucks having to take off your glove when it's sub-zero just to answer the phone. And those gloves that have them built in already aren't very good/comfortable.

Had my North Face e-Tips for a year - can't fault them, quite warm, good fit, work well. IN fact I often type much more accurately with them on than with them off. Only bad thing about them is the stupid logos on the fingers, otherwise I'd recommend them to all.

orrrrr just buy some American Eagle Outfitter texting gloves :-)

There's these too: http://www.dotsgloves.com
I just ordered a pair, but I haven't received them to verify how well they work yet. Here's to hoping!

what were they thinking?! How many hands and body parts does a person need to answer a phone? Hey, how many California iphone designers does it take to answer a phone in Norway? Answer: 4. One to hold your purse, one to pull your gloves off by their teeth, another to hold your gloves so they don't drop on the ground, and one with warm fingers to touch the screen.

That is really fascinating, You're an overly professional blogger. I have joined your feed and look forward to in search of extra of your great post. Additionally, I have shared your site in my social networks

Excellent weblog here! Also your site loads up very fast! What host are you the use of? Can I get your affiliate hyperlink to your host? I wish my website loaded up as fast as yours lol

Its like you read my thoughts! You appear to know so much about this, such as you wrote the guide in it or something. I believe that you can do with a few p.c. to power the message home a little bit, however instead of that, that is fantastic blog. An excellent read. I'll certainly be back.
Thank you for signing up to iMore. You will receive a verification email shortly.
There was a problem. Please refresh the page and try again.