iPone 4S, iPad 2 jailbreak tool Greenpois0n Absinthe for Windows now available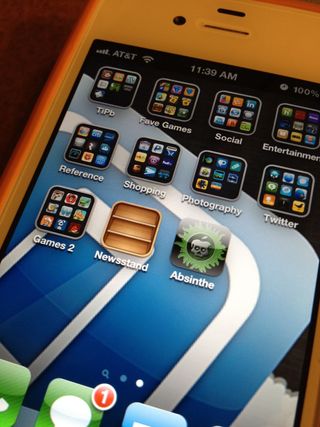 We finally got an untethered jailbreak for iPhone 4S and iPad 2 yesterday via Greenpois0n Absinthe. Until now the tool was only released for Mac users. It has now been updated with support for Windows users.
If you haven't already jailbroken your device via redsn0w CLI 0.4.3, I'd recommend using this method. Hit the links below for instructions and a download link.
Download Greepois0n Absinthe
iMore senior editor from 2011 to 2015.
Got restless waiting for the windows version to show up. Used the CLI version yesterday to jailbreak my iPad.

Been waiting all day for this! It seemed to work fine -- but, and there's always a but isn't there -- all cydia says when I click on anything is CANNOT LOCATE PACKAGE. Guess I need to research what that means.

All you have to do is close out cydia completely, and let it reopen again. The packages just didn't load properly. It happened to me, I did that and but was fixed no problem.

That literally took me less than 10 minutes. Very easy!

Well, some of us aren't so lucky I guess.
I tried both Greenpois0n & Redsn0w and neither of them are working.
On Redsn0w, I keep getting error messages after error messages. Tried rebooting the iPhone a couple of times, & even changed ports... All resulted in nothing. I can't keep unplugging & replugging my iPhone 4S, as it will wear down the battery.
On Absinthe, I got as far as the bar 1/2 way across the screen saying Preparing to Jailbreak, yet, I have a VPN selector now & the Absinthe app on the phone. I click it, it says "Absinthe is now setting things up, please stand-by..." which remains for over 15 minutes with no change.
I even rebooted the iPhone 4S and everything, still nothing.
I would go to the forums to ask, but there are no forums for the Windows version I could find. I will go look again, but will check back here soon.

Wow, that was fast, there is now a new thread that has sticky status for this issue.
But, it is good to be aware there are still issues.

I was stuck with redsn0w as well. What I did was just restored to factory settings and ran it again. Cydia appeared without an issue. Then I restored my backup and all is well.

why when i try too jailbreak my iphone 4s with greenposi0n (windows) when the program comes too the last part loading jailbreak data or something like that greenposi0n stops working and i have to close it ???

Same problem here. Tried it 3 or 4 times now and still the same results as you have had.

it there a fix or what are we doing something wrong ? the program just gets greyd out half way threw and doesnt respond

For those of you having a problem where windows craps out towards the end. Make sure all anti-virus software is turned off along with windows fire wall

I did the greenpois0n for widows last night and it worked prefeclty ........I guess I have been lucky.

Now I wish I didn't upgrade to 5.1

I turned off my anti-virus and firewall and it still craps out !!! Idk what's wrong but it ain't working for me Using windows version

I jailbroken my 4s & then after downloading all the required cydia apps I then downloaded custom NC backgrounds now I hav no service how do I get my 3G back?

Greenpois0n locks up midway through. Tried it a dozen times! Grrr...

Mine worked fine, but i randomly get 4 white icons named setup, diagnostic and i can remember the other 2, happened only twice and goes away after a reboot.... I would like to know what causes this though.

Yup I done it like 30 times and it still locks up ! Turned off anti-virus, firewall, download different versions of greenposiOn and nothing !!! Still locks up I even restore my phone lie 5 times and twice restored my iPhone 4s as new device and still locks up !!!

tryd it on my cousin computer running windows 7 32 bit and it worked my computer is 64 bit don't know if that's a problem

I tried JB'ing my phone and idk what went wrong. My phone appears to be normal but when i into settings I now have an option to turn VPN on or off. When I go to settings>general>network there's a configuration that is called Jailbreak and it's on the connect on demand option. Every time I turn it on, i get an error saying " a configuration error occurred" I press okay and my phone doesn't reboot. Any help/ suggestion

Easy as pie for my 4S! Took all of 5 minutes after I downloaded Absinthe.

I miss the ease of "hacking" my Pre 2.......don't get me wrong....I don't miss the Pre....but "JAILBREAKING" a Pre was easy as breathing...Apple is a pain.....just give us what we want!

i jb my iphone then non of my songs are playing is anyone having the same problem

after i jailbreak my battery sucks soooo bad iphone gets kinda warm.. anybody suffering this

Is redsnow or absinthe better

I have a acer net book and saved the absinthe through USB but when I load it up on the netbook, and plug n my iPhone the jailbreak button is not lit??? Help
Get the best of iMore in in your inbox, every day!
Thank you for signing up to iMore. You will receive a verification email shortly.
There was a problem. Please refresh the page and try again.