How to download macOS Sierra 10.12.6 beta 6 to your Mac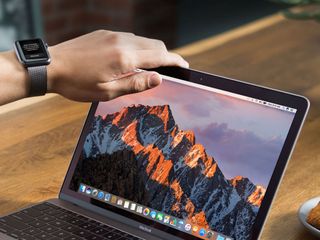 macOS Sierra is coming this fall with plenty of awesome new features that developers can take advantage of in their apps; as such, Apple is releasing early beta software so that developers can make their apps work seamlessly when the full operating system launches to the public.
Apple occasionally offers updates to iOS, iPadOS, watchOS, tvOS, and macOS as closed developer previews or public betas (opens in new tab). While the betas contain new features, they also contain pre-release bugs that can prevent the normal use of your iPhone, iPad, Apple Watch, Apple TV, or Mac, and are not intended for everyday use on a primary device. That's why we strongly recommend staying away from developer previews unless you need them for software development, and using the public betas with caution. If you depend on your devices, wait for the final release.
How to make an archived backup of your Mac with Time Machine
Before you begin, make sure you back up your Mac. The download and installation process is fairly easy, but any time you make significant changes to your computer, you risk problems. When it comes to securing your data, it is definitely better to be safe than sorry. Even if you just backed everything up the night before, make sure your Mac is completely up-to-date.
Connect an external hard disk or Time Capsule with a USB, FireWire, or Thunderbolt cable.
Click on the Apple icon () in the upper left corner of your screen.
Select System Preferences... from the dropdown menu.
Select Time Machine in the System Preferences window.
Turn the Time Machine slider On.
Click Select Backup Disk and choose the disk you'd like to use.
Time Machine will format the hard drive for backups and start within two minutes.
How to download the macOS Sierra developer beta
Downloading the latest beta on your Mac is as simple as visiting Apple's developer portal.
Visit developer.apple.com

(opens in new tab)

on your Mac.
Click on the Develop

(opens in new tab)

tab.
Click on the Downloads

(opens in new tab)

tab.
Log in with your developer account.
Scroll down and click on the Download button for macOS 10.12.3. The file will automatically download to your Mac.
Open your Downloads window and select macOS Sierra Developer Beta Access Utility.
Double-click macOSSierraDeveloperBetaAccessUtility.pkg to run the installer.
When the installer is finished downloading, the Mac App Store will automatically open to the Updates section. Click Update to download and install the developer beta software. After the software has been downloaded, your Mac will automatically restart.
If the latest developer beta does not appear on the Updates list, restart your Mac. Then, open the Mac App Store and click the Updates tab.
The developer beta update can take a long time to finish downloading, depending on the size. You can check the status in the Updates tab of the Mac App Store.
How to install the macOS Sierra developer beta
After macOS Sierra is finished downloading, you will be prompted to install the software automatically.
Click on Continue.
Agree to Apple's Terms and Conditions.
Click on Install.
Follow the instructions to install macOS Sierra.
Your Mac will reboot to install macOS Sierra. You'll see a black screen with the Apple Logo and a progress bar. Grab a cup of coffee while you wait for the software to finish installing.
How to get started with the macOS Sierra developer beta
Once your Mac reboots, you'll be set up with macOS Sierra. You'll have to follow a couple of steps to get started.
Click on Continue.
Sign in with your Apple ID and password. iCloud will sync your desktop and other files.
Click on Get Started.
You'll be directed to your Home screen where you can start digging around to find all of the fun new features.
Update July 5, 2017: Apple has just released macOS Sierra 10.12.6 beta 6 for developers. If you already have the macOS Sierra beta installed, head to Mac App Store > Updates and download away. If you've been waiting for beta 6 to start testing macOS 10.12.6, keep reading and we'll walk you through the setup!
○ FAQ: Apple's beta software
○ Should you run beta software?
○ iOS 14 public beta: The ultimate guide
○ iPadOS 14 public beta: The ultimate guide
○ macOS Big Sur public beta: The ultimate guide
○ iOS 14: Everything you need to know
○ iPadOS 14: Everything you need to know
○ macOS Big Sur: Everything you need to know
○ watchOS 7: Everything you need to know
○ tvOS 14: Everything you need to know

Get the best of iMore in in your inbox, every day!
Lory is a renaissance woman, writing news, reviews, and how-to guides for iMore. She also fancies herself a bit of a rock star in her town and spends too much time reading comic books. If she's not typing away at her keyboard, you can probably find her at Disneyland or watching Star Wars (or both).
Step 1: Sign up for an Apple Developer account. I'll stick with the Public Betas for now...

I sure wish they would implement this: http://forums.macrumors.com/attachments/request-png.644132/

So basically as it was on Mavericks? Mavericks had the green button to just "maximize" the window instead of entering fullscreen, and had that icon in the top right to take you into fullscreen separately: http://a4.mzstatic.com/us/r30/Purple6/v4/46/4e/6c/464e6c0c-e2b0-c2a4-062...

Yes, except Mavericks never had a true Maximize button. Unfortunately, the Mac has never had a true Maximize button. The green button used to be a zoom button which would attempt to scale to the content. (A neat idea but not a maximize replacement) Linux and Windows both have a Maximize button and the lack of one on the Mac can be very frustrating for switchers. I switched back in 2008 and I still miss the Maximize function. As a teacher I know hundreds of other switchers who also miss the Maximize function from Linux and Windows. The graphic gives users the best of all the platforms: - A zoom or scale the window to the content function.
- A full screen function.
- A true Maximize function which the Mac has never had.

As soon as i get my Samsung SSD to replace my HDD, ill be loading up Mac OS Sierra :D
Going to bring new life to my Macbook Pro! :D

Am I missing something on iMore lately? Is this site just How-To's and sales advertisements now? No product reviews? Very few editorial pieces. I thought there were some big changes coming? Am I looking in the wrong places on this site for actual content? Or is this just a site to learn how to use products and buy things now?

What's there to review? Currently there's no new iPhone, no new iPad, no new Macs, no new Apple Watch. There will be an iPhone 7 (or whatever it will be called) review as soon as they get there hands on it

Downloading the public beta as well. Seems they released both developer and public beta at the same time. There must have been some major issue(s) to do that. I know I was having some issues with Wi-Fi and the Internet after beta 3. Pages were either taking forever to render or they were getting hung up and not loading at all. We reset the modem 3 times but that had no effect. And it only the Macbook Pro that was having the issue. All 4 iPhones in the house worked perfectly as did everything else on WiFi. So I suspect it was a problem with beta 3. Not an issue however...that's what beta programs are all about. I'll see if the WiFi issue is handled in beta 4.

Just got it for public beta as well.

I just got my Mac Pro a week ago. Love it. First thing I did after setting up was download the update and install Sent from the iMore App

Just got my Mac two weeks ago. Downloaded Sierra day one Sent from the iMore App
Thank you for signing up to iMore. You will receive a verification email shortly.
There was a problem. Please refresh the page and try again.