How to download watchOS 3.2.3 beta 4 to your Apple Watch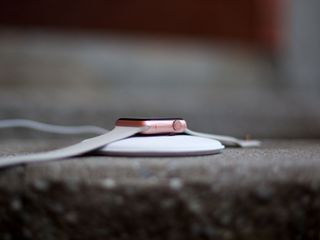 There's yet to be a public beta for watchOS the way there has been for iOS and OS X, and that's okay — the process for installing the software is more complicated, and really meant for developers only. You need to install a certificate on your Apple Watch, then download the software to your iPhone running iOS 10 beta, transfer it across, and get it up and running. It's not hard, but it does take patience and you may have to troubleshoot.
Apple occasionally offers updates to iOS, iPadOS, watchOS, tvOS, and macOS as closed developer previews or public betas (opens in new tab). While the betas contain new features, they also contain pre-release bugs that can prevent the normal use of your iPhone, iPad, Apple Watch, Apple TV, or Mac, and are not intended for everyday use on a primary device. That's why we strongly recommend staying away from developer previews unless you need them for software development, and using the public betas with caution. If you depend on your devices, wait for the final release.
How to install the watchOS 3.2.3 beta certificate
Note: Make sure you're running the developer beta for iOS 10 on your iPhone before trying to install watchOS 3.
Log into developer.apple.com

(opens in new tab)

on the iPhone paired with your Apple Watch.
Go to the watchOS 3 download page

(opens in new tab)

.
Tap on Download watchOS 3 beta Configuration Profile.
Tap on Apple Watch from the Choose a Device popup.
Tap on Install begin.
Enter your Passcode
Tap on Install to confirm.
Tap on Restart to reboot your Apple Watch.
Once your Apple Watch has rebooted the installation process goes back to normal.
How to install watchOS 3.2 on your Apple Watch
The certificate is what tells the Watch app on your iPhone that watchOS 3 is available. Once the Watch app detects it, the process for installing it is the same as any other watchOS update, detailed below. (If the beta doesn't show up, reboot again.)
Connect your iPhone to Wi-Fi and launch the Apple Watch app.
Tap on the My Watch tab.
Tap on General.
Tap on Software Update.
Tap on Download and Install.
Enter your iPhone Passcode.
Tap Agree to the Terms and Conditions.
Make sure your Apple Watch is charged to at least 50% and connect it to the magnetic charger.
Tap Install on your iPhone and/or your Apple Watch.
The Watch OS update will download and transfer to your Apple Watch and Apple Watch will reboot to apply the update. You can follow the progress on the Apple Watch screen, and once it's done, you'll be all set.
If the watchOS 3 update fails at the verification stage, try again. If it fails repeatedly, un-pair and re-pair your Apple Watch and try again. (That un-pairing and re-pairing process takes a while so make sure verification really isn't working for you before you go through it.)
How to downgrade watchOS
Instructions for reverting back to watchOS are behind the developer center log in, so we can't replicate them here. Suffice it to say you can't do it on your own. Your Watch will have to go back to Apple. That alone should give anyone who doesn't absolutely need the developer beta pause to reconsider installing it in the first place.
For developers who, for whatever reason, really do need to revert, you can find instructions for contacting Apple at the bottom of this document:
Update June 26, 2017: Apple has just released watchOS 3.2.3 beta 4 for developers. If you already have a previous watchOS 3 beta installed, proceed to the Watch app on your iPhone running iOS 10 and download away. If you were waiting to begin watchOS 3.2.3 testing with beta 4, keep reading and we'll walk you through the set up!
Get the best of iMore in your inbox, every day!
Serenity was formerly the Managing Editor at iMore, and now works for Apple. She's been talking, writing about, and tinkering with Apple products since she was old enough to double-click. In her spare time, she sketches, sings, and in her secret superhero life, plays roller derby. Follow her on Twitter @settern.
Hi!
certificate installed , but software update do not show up even after restarts ....
Thanks for this guide , 4. in apple watch os installation guide is unclear

Be sure to install the new iOS beta on the iPhone, too

I've noticed on my Apple Watch Sport 38mm that if I don't have the charger connected, while my phone is on a wifi connection, it tends to not show up either. When connected, update usually shows up Sent from the iMore App

I assume "Apple will release it to the public this fall." was a carryover from an earlier version of this article pertaining to an earlier version of WatchOS, correct? Sent from the iMore App

still don't get it. my watch doesn't download the update...

Considering that it requires sending back to Apple to unbrick or restore to official, this is really not worth it.

Something has seriously gone wrong if it bricks. Bricking is something that happens more alpha stage. I'd expect a lot of bugs but not bricking

This beta is totally worth it. Simple enough instructions. If you can read, and follow directions, you'll be fine. watchOS 3 is awesome!! Even the beta. Totally worth it Sent from the iMore App

I have iOS 10 beta in my iPhone and I click on the link and when I try to download it, it takes me to Xcode download. What do I do?

Yes mine does the same thing and I have iOS 10 beta to what to do I do not know

Same here. It looks like the typical iMore step by step How To- steps missing. The X-Code page says the ID must be associated with a PAID developer account or ENTERPRISE account, something not mentioned in the above How To.

You have to be a developer.

will it work with public beta ios 10?

not yet, im trying with public beta with no joy, the watcxh does not update to watchos3 yet

I have the public beta on my iPhone, and this developer beta on my watch. The two work together great!! Sent from the iMore App

Something is not right as it does not show the Beta upgrade. Even through developer doesn't allow to get it. So strange as I can develop on WatchOS3 platform. If any of you get any luck with it drop me a reply please

See my response below, it may help you out.

Don't make the same mistake I did and try to load the iOS Profile onto the watch. Even though it asks you if you want to download the profile to the watch it will download the iOS profile and then reboot the watch. Go directly to the developer.apple.com site, log in, and go directly to downloads. Select watchOs download button and then install the profile to the watch. Once rebotted, go to the Watch App on the iphone and try the software update.

Hi there awesome write up showing the new beta 4! I am currently on iOS 10 public beta 2 and my apple watch is on 2.2.2. I wish to install the Watch OS 3 beta on my watch and was wondering if I do install it and use it till the official release and when the official version comes out on September am I able to upgrade to that version without having to send the watch back to Apple for a reload back to Watch OS 2? I know the iphone public beta should go directly to the official but was wondering if this would be the same for the watch OS 3 beta? Thanks in advance :)

Been running the WatchOS 3 developer since day one. I've never had issues downloading or installing it. The first 2 releases were buggy. It's gotten a lot better. Really liking WatchOS 3.

I just finally put the iOS beta on today. When I installed the profile it asked me iOS or Watch OS, I chose iOS, after updating it's not giving me the Watch OS options any more. Maybe it's time to renew my developer account....

I installed both public beta profiles but doesn't show anything new for the watch so hopefully Apple is gearing up to offer public betas for watchOS too now

Ugh, if only my Series 2 was here... I would install this!

Anyone updated to 3.1.1 on the Nike+. Holding off as I'm concerned I'll lose the special Nike watch faces when the beta loads. Can't find any info on the Apple dev forums.

Still thinking it's past time for late stage public betas on both Watch and tv. For instance with 5 stages, release the 3rd or 4th thru the 5th, etc.

I went to update my Watch OS to 3.1.1 the day that became official and was able to download it, but couldn't install because they pulled it. To this day I have that annoying notification still showing, but NO ONE I ask ANYWHERE can tell me if 3.1.1 was ever released to everyone. Now they are releasing another beta, did I miss the regular 3.1.1 update or is that still on hold??

No they never re released it

watchOS 3.2 beta 4. <yawn> I'm over the beta thing. I did do the betas for wOS2 and 3 and that was interesting. But it took a while to get rid of the beta token so I could get the General Release. wOS3 was the proverbial game changer and 3.2 isn't offering much in features with the big ones being Theater mode and Find My AirPods. I like it, but it's not enough to get me to do the beta dance again. I can wait for the GR. It'll be here before my AirPods.