How to turn your old iPhone into your kid's dream device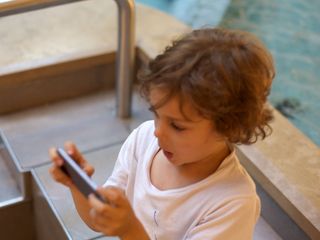 (Image credit: Rene Ritchie)
If you have an old iPhone lying around, chances are you're not getting much use out of it. I still have my iPhone kicking around here somewhere, but does it ever get turned on anymore? Not when I've my trusty iPhone 7 close at hand. But if you have kids, there's really no need to let a perfectly good device go to waste. They're probably bugging you to play with your newer iPhone anyway, so give them a device of their own.
Just kid it up first. Here's how.
Erase it
First things first: Completely erase your older iPhone before handing it off to a child. You may still have sensitive information on there that you wouldn't want accidentally posted to Facebook or something.
Here's how to erase and reset your iPhone:
Launch Settings.
Tap General.
Tap Reset at the bottom.
Tap Erase All Content & Settings.
Enter your passcode.
Tap Erase iPhone.
Tap Erase iPhone when asked if you're really sure about it.
Enter your Apple ID password.
Tap Erase.
You'll also want to double-check that you've removed any old SIM cards from the iPhone. They're likely not active, especially if you've activated a new one for your new phone, but hey — you never know.
Grab a case for it
This may not seem like one of the first things you'd do, but it should be. Why leave it until later? If you have an older iPhone like a 4s or 5, then chances are you get a case on Amazon for dirt cheap. Protect it so that your kid knows it's valuable and not just another toy.
We recommend cases by Spigen, Caseology, and Supcase(for the rougher kids).
Best iPhone cases for people with kids
Load it with games
Now that your older iPhone is erased, load it up with games. There are tons of kid-friendly games available for tiny tots right up to preteens, so download a bunch of them and rotate them after a while. If the phone's getting full, sit down with your kid and decide which games can go, and then download a few more.
If you're looking for recommendations:
Organize the Home screen for a kid
What's on your initial iPhone Home screen now? It's probably Messages, Settings, maybe a weather app or something — all the stuff you use on a daily basis. That stuff means nothing to your kid, and it'll probably be confusing for them. Organize each Home screen so that it make sense for your child.
Thanks to iOS 10, you can "delete" some extraneous apps from your iPhone, like Maps, Mail, Calendar, Voice Memos, and more — so get rid of 'em. When you've whittled things down to the native apps that you can't get rid of, toss them into a folder and put them on the very last Home screen. This will keep everything out of your kid's sight and hopefully out of mind.
Next, lay out all the games Home screen by Home screen. If you know which games your child likes to play the most, then put those on the main Home screen. Better yet, start teaching them to order things and put them in alphabetical order or order them by color.
Enable Restrictions
Restrictions are there to let you essentially disable certain apps on your iPhone. You have to create a passcode, and then you can shut apps off at will. Don't want your kids messing with the camera or making inadvertent purchases from the iTunes Store? You can just shut each app off with the flick of a switch.
Read more:
How to set up parental controls with restrictions for iPhone
Create a child Apple ID
With Family Sharing, you can share all of your iTunes and App Store purchases among members in the group, but you can also create child Apple ID, which can be used to limit spending (especially since all transactions made while Family Sharing come from the organizer's credit card).
A child Apple ID lets you enable "Ask to Buy". Rather than just letting your kid go buckwild, spending your money on apps, you can force them to ask to buy content first. You'll get a notification when the request is sent through and you can either approve or deny it. It's the best way to make sure the little ones aren't accidentally buying things they shouldn't.
How to create a new child Apple ID
Set up FaceTime
If your child's grandparents have iPhones or Macs, then giving your kid your old iPhone is a great way to help them stay in touch. Once you restart the phone and set it up again, set up FaceTime, but let your kid know that it's only to be used when approved (otherwise they might just ring up Gran-Gran at 3 a.m… though she's probably up and has had lunch by then…).
What do you think?
Got an older iPhone that you're thinking of turning into a kid's device? Sound off in the comments and let us know. Already did it? Let us know what you did to "kidify" your iPhone.
Master your iPhone in minutes
iMore offers spot-on advice and guidance from our team of experts, with decades of Apple device experience to lean on. Learn more with iMore!
Mick is a staff writer who's as frugal as they come, so he always does extensive research (much to the exhaustion of his wife) before making a purchase. If it's not worth the price, Mick ain't buying.