HTC Vive: The Ultimate Guide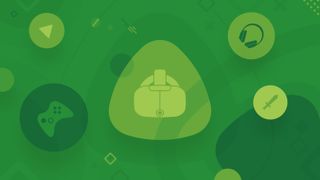 It has been over a year since HTC debuted its first virtual reality headset, the HTC Vive. With the intention of providing high-quality experiences to the masses, the headset has emerged as a consumer favorite as of late. It's the most precise headset for tracking, has access to massive store of unique games, and HTC has worked hard to grow the platform around this hardware to offer something special to everyone.
Whether you're just starting out with the platform or been rocking a headset since launch, we've compiled the best tips and tricks to take your experience that extra bit forward. From buyer's guides, tutorials and troubleshooting, we're sure to cover your needs!
Meet the HTC Vive
While HTC has previously targeted its efforts towards phones and mobile devices, the HTC Vive is a step away from the company's well-established roots. The HTC Vive is the firm's first attempt at a virtual reality headset, which combines existing desktop VR with room-scale motion. This gives players a full-body experience, providing one-to-one tracking of the headset and two controllers. Unlike cheaper VR alternatives, the HTC Vive sits among the most premium of virtual reality experiences.
If you're new to the HTC Vive, this is where you should start! From obtaining a VR headset to warnings for potential buyers, here's what you need to know!
What you need to know about the Vive
Getting to know virtual reality
Getting started
If you've got your hands on the HTC Vive, it's time to get it set up! While the included quick-start guide will help you jump straight into virtual reality, it manages to gloss over a few aspects of more advanced setup. From headset adjustments to base station mounting, the HTC Vive is best when tailored to you and your surroundings.
If you're looking to fine tune your HTC Vive setup for the best possible experience, look no further!
SteamVR
SteamVR is an extension of the Steam platform – a digital games distribution service that has emerged to be a central hub for PC gaming. With the launch of the Vive, HTC and Valve have come together to create a similar platform for virtual reality. This gives HTC Vive a consistent library and storefront, simplifying virtual reality into a more user-friendly experience. SteamVR also introduces dozens of new features for the headset, which aim to make your VR experience just that extra bit more enjoyable.
To get a closer look into what Steam VR offers, follow the links below!
Using SteamVR
SteamVR Home
Room Scale
Customization
Standing Room
What content?
There are currently hundreds of games available for the HTC Vive via the SteamVR platform. From smaller tech demos to full-fledged titles, there's an ever-growing range of titles for fans of any genre. If you're stuck when it comes to picking some interesting titles, we've brought together the best games and apps currently available for the HTC Vive!
Accessories
While the HTC Vive includes all the items you need to play most virtual reality titles, there's also a growing market for additional accessories. From standard game controllers to dedicated peripherals, there's a varied range of add-ons available which each add their own unique flairs to VR experiences.
Make sure to take a look at our top accessories below!
HTC Vive headset accessories
Controllers and audio
Best PCs for VR
Troubleshooting
While the HTC Vive is arguably one of the best virtual reality experiences to date, anyone who owns one will admit they're not perfect. With the headset launching earlier this year alongside the SteamVR platform, there are still a number of small hitches that users face on a daily basis.
We've brought together some of the most common issues that can affect today's HTC Vive users and the fixes to complement them!
Headset issues
Base station issues
Controller issues
SteamVR issues
Quick tips
After laying down the cash for a high-end PC and an HTC Vive, it's likely you're looking to get the most from your purchase. If you're looking for new ways to improve your virtual reality sessions, we've brought together various tips for all virtual reality users.
From portability, optimization or general care, here's what you need to try to enhance your experience!
Playing non-HTC Vive games
Optimization
Gameplay capture
Caring for your headset
HTC Vive Pro, the next phase
You can buy an HTC Vive today and do quite a bit, but in the year and change HTC has been selling this headset there have been lessons to learn and opportunities to seize. It became quickly clear that a more capable headset could exist alongside the HTC Vive and offer something more for pro gamers and businesses looking to expand a VR offering.
That headset is called the HTC Vive Pro, and it will be coming out later this year. Here's what we know so far!
What would you like to know?
Considering an HTC Vive? Wanting some help with your headset? Make sure to reach out to us in the comments!
Get the best of iMore in your inbox, every day!
Russell is a Contributing Editor at iMore. He's a passionate futurist whose trusty iPad mini is never far from reach. You can usually find him chasing the next tech trend, much to the pain of his wallet. Reach out on Twitter!