iMore Show 797: Three more sleeps till WWDC!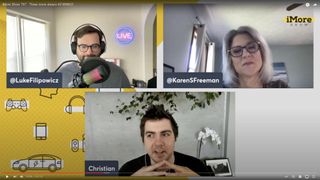 (Image credit: iMore)
This week, Luke and Karen talk with iOS developer Christian Selig about WWDC, developing, and more!
Listen now
Watch now
Links
Sponsors
Capital One: Machine learning at Capital One. Capital One. What's in your wallet?
Hosts
Be part of the show!
Send in your comments, questions, feedback, or follow-up to:
Jim Metzendorf has been using Macs since 1994. He is a podcaster, freelance audio/video editor, and author of 'The Professional's Guide to Audio Podcast Production'. Jim also teaches audio production at a college in Cleveland, Ohio. Follow him on Twitter: @jmetzendorf
Can you take it easy on the ads? Over the last few months they at least doubled. You're a tech podcast one or two tech related products would be suitable instead of tons of non tech related products. Quality of ads not quantity here folks.
Thank you for signing up to iMore. You will receive a verification email shortly.
There was a problem. Please refresh the page and try again.