International iPad 2 online orders going live, already 2-3 week wait for shipping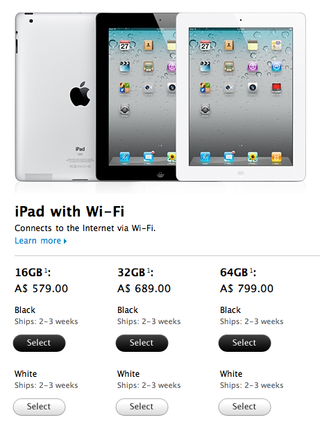 It's March 25 in Australia and that means international iPad 2 online orders have begun going live... but with a 2-3 week estimate on shipping. Other online stores are also up now, like Canada and UK, but simply list iPad 2 as currently unavailable at the moment (that should change as 1am rolls around in those time zones -- though we still don't know if Canada will be PDT or EDT.)
We'll keep an eye on the shipping estimates in case anything changes. What's your local availability? Has anyone ordered yet?
(If you're having trouble deciding if you want an iPad 2, check out our iPad 2 buyers guide and full on iPad 2 review.)
Get the best of iMore in in your inbox, every day!
Senior Editor at iMore and a practicing therapist specializing in stress and anxiety. She speaks everywhere from conferences to corporations, co-host of Vector and Isometric podcasts, follow her on Twitter @Georgia_Dow and check out her series at anxiety-videos.com.
@Australian brothers & sisters....
Can you provide any tips to us Canadians who are planning to purchase an iPad 2 online tonight? Tips on how to ensure your order gets processed for sure??
Can you for instance fill out anything in the purchasing process before the planned 1AM opening??
Anything would be greatly appreciated!

You're not able to fill in anything until the store actually says it is available and you choose a model to continue. The best you can do is make sure your account info is all udated with your address and payment info so that as soon as they become availalbe you can select the model/extra acessories and process.

They did come online in the Australian store before 1am though, I actually ordered mine at about 11:45pm AEST

uh - that is pretty early!
And how long will your shipping be? 3-5 days?

Swedish store is updated as well. It is not possible yet to select iPads, but from Smart Covers section I see delivery time 2-3 weeks already :(

In Germany you can select the pad but can't order.
SmartCover is the same 2-3 weeks... omg

it is saying you cant order it yet so i think that must have been an error

I is all a gigantic hoax. Apple probably sent 10k ipad 2 to each of the countries to be sold in the first few hours in store, and maybe a handful to be sold online, just so they can claim it was launched on MAR 25, and the launch as a big success. And then they will string online and store shoppers along for weeks without any decent supply volume.

Indeed, still waiting for one in NYC. They keep selling out within 10 minutes after opening and people are still lining up outside the store every night....two weeks after it launched.

It's still better than the 4-5 week wait for the US one!

I'll be staying up to 1am to try and get an order logged asap and then my wonderful wife has offered to try and get one at the Apple store tomorrow.

And if there are no Chinese gans to buy up all the supply and ship it to Asia, you might actually find one in a store.. If apple would limit it to 1 pad per customer and record the name of every sale, I bet that there would not even be a shortage...

I live in Oslo Norway, and 5 hours ago, I got a phonecall from the premium reseller Humac, (We dont have actual Apple Stores here) that they were haddy to CONFIRM my 64Gig Black 3g iPad2, and that I can pick this up tomorrow between 5 and 8!
Seems I can call myself lucky, considering all the hardship everyone in the US seems to be having. The iPad has been available for preorders here since the Apple Keynote(!)
Seems all the norwegian resellers have been using preorders. Is this not the case anywhere else??

Premium resellers in the UK, or my part of it at least, aren't doing any pre-orders. In fact they appear to have no idea what stock they are expecting.

This is worrying about the 2-3 week wait considering we have not even had a chance to order yet. I have seen pictures of Orange staff unloading a decent stock to one of their shops so there may be more shop stock than everyone is anticipating.

New Zealand was meant to be first in the international pecking order as it is a minimum of 2 hours ahead of eastern Ozzie time. Interesting that Jamc888 says they went live early. Someone was a bit tardy in mission control because they didn't update the NZ store till 2:20am. Shipping for all products was given as 2-3 weeks. Order confirmation says 15th April.

finland store still not live despite local time being 1:18am

German store is also not live with ipad2, and it is past 1 AM there. By the looks of it Apple had never planned to sell a single ipad online with immediate delivery. frankly I find that phony. If they paint the tape al over the place with a big 1 AM store launch they better have actual merchandise available for shipping within 2 or 3 days. everything else is false advertising.
I will definitely not order anything if it may or may not ship in 3 weeks, and then ad up to 8 days of shipping.
Apple is just aiming for a cool news headline and long line up pictures, but they are completely unprepared and seem to care little that customers actually want to buy. Just gunning for the big headline
Had they cared, then they would have limited sales to 1 ipad per person, and weeded out Chinese gangs from buying up 10s of thousands of devices. This would not only have alleviated the demand pressure, but also dried up the rampant black market for ipads.
But hey, its Apple, and they never really cared for that, as long as the new device is thinner and faster as the last one Steve is happy...

just ordered in uk but 2-3 week wait. Going to try my luck at the stores tommorrow. TERRIBLE launch once again by apple!!!!

Yes, Apple germany also launching with 2-3 week wait. This is the fakest launch I have ever seen. They should have had the decency to at least have a few hundred for immediate sale to save face.
So except for a few thousand unit per country, there is no actual launch. They would have done better, by being honest about the shortages and delaying the launch outside of the US.
This launch was only good for a dark place where the "sun dont shine"...Trying to keep it decent in this forum :)

In UK now getting "An error has occurred during your session. Please return to the Store Menu to continue shopping." but am retrying. Dunno if it's a 1am thing but looking above it seems it could be another cause

Also had the same issue. Tried a few times, might leave it until its past 1am

Still getting nowhere and now the site is going screwy crashing out at random places, running slow and getting my cart wrong

According to Twitter using 1-click-order works. And it seems to - I now have my order number - however I'm dubious until I see confirmation. And looking at the small print I see that there's a 90 minute cooling off period so it seems that all I've managed is an order sometime after 2:50am

i think i managed to order 2 as the first didnt show up in my order history.... Hopefully they will show up soon so I can cancel one. Still not showing either.

what delivery date did they give you? 2 to 3 weeks, or is it actually available earlier?

in uk and delivery date is 2-3 weeks. Got a print of my order second time around. Used one click order if that is any help.

just went on site again and I could order again no probs if I wanted. Not sure what your issues could be.

Including Place Order Now? or just filling your basket?

Which country are you in?

Not sure about placing order as I didnt want to get a third one. Still not showing up in order history though but as I said I have the order number printed for the second one so I should be good to go.

When I try and check my orders now it says "we are busy updating store for you" and a list of tele sales

The same prob ;) My card was authorised about 3-4 times :P

Is anyone's showing up in order history? Placed an order with 1 click and it went through successfully but I stupidly didn't print it out or make a note of the order number

Getting exactly what you got. Trying again and getting same thing. Even though I got a web order number the View 1-click orders shows nothing and order status is also empty.

now been trying on UK site for 35 mins and every time it gets to checkout it says "oops" and wont let me order.......
why did i stay up?
arghhhhhhhhhhhhhhh!!!!!!!!!!!!!!!!!!

I tried half an hour before switching 1 click on. That seemed to do the trick, but like above nothing in my order history - so I tried again and noted my order number this time. Still nothing in my order history - so fear I've ordered 2! Agh!

On the Canadian store, even at 1 AM exactly it wasn't available. I refreshed the page every ten seconds (literally) and at around 1:13 it finally allowed me to select it. But: it said that it would be AVAILABLE, not shipping, in two to three weeks.
Has anyone else had this problem?
Thanks in advance!

I had the same experience. shipping in 2-3 weeks.. I guess I will try my luck at the store later toda

Just ordered an iPad 2 on the canadian apple store. It clearely says that it will ship in 3-4 weeks, with delivery 8-12 hours later. You can get that info in "acount", "order status". So I'll be expecting it somewhere at the end of April.
Thank you for signing up to iMore. You will receive a verification email shortly.
There was a problem. Please refresh the page and try again.