This is how iOS 17 and iPhone 15 could help business users and where you work
If you're self-employed, should you upgrade to iPhone 15?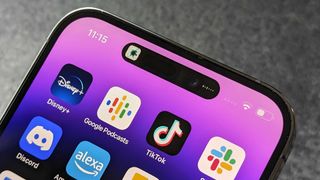 (Image credit: iMore)
As we wait to see what Apple will announce at its 'Wonderlust' event on September 12, self-employed users and business owners will be looking at how new features will impact them over the coming months.
iOS 17 is almost a grab-bag of features, such as StandBy mode that transforms your iPhone into a helpful alarm clock. Widgets finally come to the desktop in macOS Sonoma, and watchOS 10 gives Apple Watch the biggest redesign since its launch in 2015.
But you may be carrying an Apple device for the workplace that may be locked down. Simply updating to these latest versions may require approval from the IT department, holding you back from trying out these new improvements.
With this in mind, we go through the features that businesses will benefit the most from, and where the iPhone 15 may factor into this.
Workplace features in iOS 17
While several new features in iOS 17 are consumer-focused, they can also benefit business users, which can be specific to certain iPhones used in the workplace.
The list of consumer additions bringing the most business value includes:
AirDrop's support for completing large transfers over the Internet, is something that will be useful in meetings, conferences, and any other venue where you encounter colleagues that you don't typically see in the office.
Part of AirDrop's new features this year as well is NameDrop. It's a quick and easy way to exchange contact information between two iPhones or Apple Watches - think a 21st-century version of exchanging business cards.
Profiles in Safari are also coming to iOS, iPadOS, and macOS, which offer a convenient and powerful way to separate how you browse at work and at home. This can separate tabs and bookmarks between profiles, so you can easily switch off from work when needed in Apple's web browser.
Better AirPlay support at hotels and other venues was teased at WWDC 2023, which includes a partnership with LG to make it easier for travelers, presenters, and business folks to easily display content wherever they are and to cut down on the cables they need to carry.
All of these add up to enhancing that work visit as you plan to network and trade contact details with potential partners. But the improvements also extend to how a company's IT department manages a group of Apple devices and Apple accounts.
Filing a request for IT
The biggest news for IT departments revolves around Managed Apple IDs. Similar to your personal Apple ID, these allow you to access various parts of Apple's ecosystem but in this case, the Apple ID is matched to the account you use to log in to work computers, apps, and websites.
If you work someplace that offers and maintains many Apple devices, you probably have a Managed Apple ID already, but don't use it much, or even know it's there. In the past, they've been quite limited for IT departments than users in how they could be managed and controlled. But iOS 17 is a game changer for these second Apple IDs because they now work with parts of iCloud.
One area where you'll see the benefit here is passwords and passkeys. You'll now be able to have separate iCloud Keychains for your personal and work life, so you can sync up work-related passwords across work devices, with no worries about getting them mixed up. Other iCloud features are coming too, such as iCloud Drive storage and the ability to sync/backup the section of your device that involves your work, from notes to messages and media.
Apple IDs are key to Apple's Continuity features for shifting between Apple devices. If you have multiple devices associated with work for instance, they'll now support Continuity features like Sidecar, Continuity Camera, Handoff, Instant Hotspot, and Universal Control.
These features should be able to work just as easily as with your personal Apple ID. But we recommend checking with your IT department that this is indeed the case, and there won't be any potential glitches once some of these features are enabled.
But what about the iPhone 15?
Granted, iOS 17 is a big benefit for business users, but what does that mean for the upcoming iPhone 15? Most business and productivity apps usually don't require a brand-new model. iPhones that can run iOS 17 will likely meet most business needs and continue to be serviceable as before.
But that doesn't mean you shouldn't consider an upgrade regardless, especially if you use it daily. If your iPhone is more than a couple of years old, it will run iOS 17 and virtually every app, but it won't run these as quickly as the latest model. It likely also has a smaller storage capacity, which can be an issue if you keep a lot of work data on your phone for example. Plus its battery health will have been impacted by years of use, most likely requiring you to charge it at least twice a day.
You may also be in a line of work where things like performance, storage for taking camera shots, and other features are a bigger deal than they are for most people. If you do processor-intensive tasks, such as video editing or other media work, then you likely will want to consider buying an iPhone 15 or 15 Pro Max (Ultra).
If you also need to travel to rural areas, the SOS satellite feature introduced last year in all iPhone 14 models can be a great incentive to replace an older iPhone, just for safety alone.
But once iOS 17 launches later this month, we recommend using it on your current iPhone to start with. This way, you can see if there is any sluggishness while using your iPhone or any other pain points to see if an upgrade can be justified.
Getting a new iPhone
If your employer is providing you with a work device, it's ultimately their discretion if or when you get a new one. If they offer a timeline for a new device or service, you'll probably need to use your existing iPhone for a specified period of time before you receive the new model.
But if you use your own iPhone but use it on a company plan with a separate SIM card, you'll likely face this question as well since that plan will determine when any device on it is eligible for an upgrade.
There's also the scenario of using your personal iPhone for work tasks within your own cellular plan, where you may get a stipend or reimbursement for part of your monthly bill. But this shouldn't have any impact on a decision to get a new device.
Yet there could be a situation where your place of work requires an upgrade. There are situations where a company may depreciate an iPhone model and a version of iOS where they don't support the apps that your place of business offers. This could also be down to security reasons too.
Should you spend the money on an unlocked phone?
Unlocked phones can be used on any carrier, allowing you to switch whenever you choose. For business travelers they also let you use a local carrier whenever you leave your home country, which can be a massive cost savings.
The challenge, of course, is that this means you need to pay the full price of the phone upfront and that you can no longer use Apple Card financing for the purchase.
Final thoughts: Ask your place of work
Ultimately, it's down to the company you work for and the type of work you're involved in. Most departments will ask for a 'business case' in a support ticket, which is a good place to explain the benefits of iOS 17 and the upcoming iPhone 15.
Asking to upgrade just because you prefer the Dynamic Island to the notch won't be a good reason for your place of work. But if other aspects help the business, yourself, and your colleagues, then that's going to benefit everyone.
Master your iPhone in minutes
iMore offers spot-on advice and guidance from our team of experts, with decades of Apple device experience to lean on. Learn more with iMore!