iPad 2 ads shot in New York last month?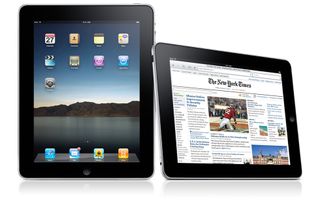 9to5mac have reported that Apple were filming ads for the next generation iPad as early as last month. The ads were reportedly shot at New York's Pier 59 by David Sims, a British photographer.
Current generation iPads were used at the shooting of the ads and will be swapped out for the new model in post production. A participant at the shooting, said that there were no new products on scene, and that everyone had to sign non-disclosure agreements.
At this point, about the only thing we can confirm is that the new iPad 2's will probably be the same size as the current generation iPads.
We're expecting to see Apple announce the next-gen iPads in early 2011, so we'll have to wait till then to see these ads.
Writer for iMore, YouTube Vlogger, and Host for [TEChBrits]
The iPad 2 WILL have FaceTime. Apple are behind this tech 100%, and I don't doubt it for a second.

I'm sure that it's not that hard to take a video of someone talking, and putting it onto your iPad, and then looking at the iPad and talking to it, as if you were on a video call.
That's probably what they did here.

Not sure how author arrived at the conclusion there would be no face time. Not only are the bezels and backs going to be swapped out in post, but on every iPad/iPhone ad to date, you can bet your mom that the screen is put in in post too. Not to mention that the supposed image from the Facetime cam shown on a screen is not even shot with an internal camera. It goes on and on why that's a bad assumption.

I'd be kinda surprised if it didn't include facetime but be honest I kinda enjoy a device that I can use solely for media consumption.

He's not saying that there will not be FaceTime. He's saying that the new commercial isn't focusing on FaceTime in this particular ad. We all know the iPad 2 will have FaceTime. Who knows, another ad may be focusing on FaceTime alone for the ipad 2.

Hopefully more ads will be done like this. (I assume its REAL WORLD, not not chroma key with a hand. Those don't cut it with general users. Mac fanboys maybe)
Facetime ads would NEED to be done, like the iPhone 4 facetime promo was. Real wold situations otherwise what would be the point?

will there be any difference in the gentrations of ipad if there's no facetime in ipad 2???????????????

Things to appear for sure in new iPad , back and front camera, more memory, faster or overclocked processor . Doubt that there will be a significant game changing upgrade as the iPad 1 is so recent and has just reached most countries recently

Who knows? It might just be an ad for the current iPad, or a test run using the current iPad to work out all the kinks before the actual run. There's no doubt that the iPad will get FaceTime. In fact, they could just add a camera to the bezel and put someone's face on the screen during production, it's completely plausible.

This article represents a breech of someone who signed a the non- disclosure agreement, huh?

Sounds to me like a commercial for the current iPad, but running a 4.2 beta, showing off air print, air play, and air e+rap...
Jumping the gun a lil..

i doubt they would make a facetime commercial outside since it needs wifi, the next ipad commercials will be filmed at home like the iphone 4 ones

@ isurf, You can get wifi outside.

they were shooting ads on Santorini in mid feb. i know becuase my daughter auditioned
Get the best of iMore in in your inbox, every day!
Thank you for signing up to iMore. You will receive a verification email shortly.
There was a problem. Please refresh the page and try again.