iPad 2 display emerges from China?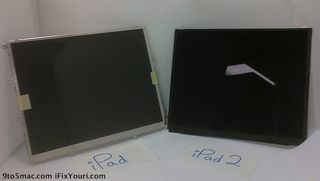 It looks like our good friends over at 9 To 5 Mac and iFixYouri have managed to get their hands on what might just be an iPad 2 display fresh from the assembly lines in China. According to them, the display is lighter as well as just over a 1 mm thinner than the current generation iPad display. The frame around the screen is also noticeably smaller as well.This seems to make sense as all of Apple's products have been getting smaller and thinner recently, and reducing the iPad's weight would be a huge plus.
The part number (LP097X02-SLN1) appears to be an LG Phillips 9.7in XGA 1024×768 H-IPS display, which is the same resolution as the current iPad. This matches up with theories that it's still too expensive to go to a 2x 2048x1536 Retina Display this year, and it's a non-starter for developers to go 1.5x or anything in between.
Check out some candid shots of both displays after the break and let us know -- would you be happy with this display in iPad 2?
[ 9 To 5 Mac ]
[gallery link="file" columns="2"]
Get the best of iMore in in your inbox, every day!
i hardly notice any difference at all. disappointed if the screen resolution is the same as original ipad. I know it will be expensive for apple to produce but I was hoping for more..
I can see this ipad 2 being a very minimal update like the iphone 3GS was to iphone 3G

Actually, the 3GS was the biggest performance update to date. It had 2x the GPU and CPU power of the 3GS. You will likely never see an across the board 2x improvement in CPU ever again.

No higher resolution?
Thank you, but no thanks.

I'm with thatguywiththeipad. I'm not waiting for iPad 3 so if no higher rez in ipad 2 screen I will go with Xoom. I keep going to the apple store to play with the iPad to see if I can deal with it but the screen looks bloody awful. Once you go Retina it's hard to go back.

I'm with the guys above. I can justify an iPad 2 easily if the screen is better. The current iPad screen reminds me of the 3GS screen. I would like it to be more like the i4. I understand the costs and etc, but that is what I am most interested.
I'll most likely get the iPad 2, but will have a harder time justifying the iPad 3 when it comes out (with hopefully a better screen).

I don't know if it's genuine, but it sounds about right. I expect thinner, lighter, and the lamination treatment like the iPhone 4. Sure, we all dreamed about getting Retina-like resolution, but that would be pretty tough to pull off, even for Apple. I also think the second iPad will be like the 3G to 3GS iPhone: big performance bump, but basically sticking with what's working for them. They don't want to disrupt the devs too soon, and Android isn't at their heels yet—probably by next year, though. I still plan on getting one. My old one will be a hand-me-down.

I think I agree with the above statement of this will be a minimum update but I hope that's wrong. I'd like a reason to get an iPad 2 but it doesn't seem like that's going to be the case for me.

Ha! All these people are saying no just based on disappointment over not getting an unrealistically high resolution display. Don't worry, there will be other goodies. See if you can resist when the new shiny thing actually arrives. Unlike a phone, with carrier/contract limitations, the old iPads will be pretty easy to unload for a few hundred bucks (or you can gift it to someone), making the new one even easier to justify.

As someone waiting for the iPad 2, I'm not disappointed at all. Mainly because double the pixels in a year's time at the same price point is so unrealistic that I didn't even remotely anticipate it.
What I do expect is a lighter, more powerful iPad on Verizon's 4G network with the ability to do true multitasking (i.e. Using 2 apps simultaneously on a split screen). This thing is going to be a winner! With the onslaught of new tablets arriving Apple HAS to improve to keep it's position on top. Have no fear :)

This article pretty much proves that the iPad 2 will be release before summer!

Horrible disappointment. It's the signature feature of the iPhone 4, no advancement in display quality despite other advances does nothing to get me excited about the new iPad. Kind of a cop out, apple changes just enough to make a new model and continues to suck down huge profits.

I suspect Apple will have some sort of "bait" or "hook" feature in the iPad 2 that will make it really desirable. They always have something that competitors can't match. Maybe it is just more CPU/GPU/RAM/Storage combined with less weight, who knows, but they will have some hook to advertise the iPad 2 with.
Actually, if it was 1 lb, maybe 1.2 lb, that'll be enough of a hook in of itself. Less weight is probably at the top of the list for making an iPad more usable. I have hard time imagining how they could do it without compromising on battery or rigidity though.
Thank you for signing up to iMore. You will receive a verification email shortly.
There was a problem. Please refresh the page and try again.