iPad 2 jailbreak imminent?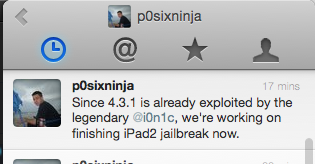 iPad 2 jailbreak may be coming sooner than a lot of folks thought thanks to p0sixninja. In a recent tweet, he claims they are working on a jailbreak for the new iPad 2. As we all remember, with the release of the 4.3.1 jailbreak, the iPad 2 was left out of the fun, due to the difference in the bootrom.
p0sixninja appears to be confirming that the jailbreak does exist -
How many of you out there have been eagerly awaiting a jailbreak for your iPad 2?
Get the best of iMore in in your inbox, every day!
Just upgraded my ipad and it really sucks without lockinfo, which requires jailbreak. I know now that I can't exist without jailbreak on iOS and will have to wait for iPhone 5 to be jail broken before I can upgrade.phones. Or significant improvement to the notification system in iOS has to happen. But even still, there are a dozen ultra useful jb apps out there. I have paid for nearly as many of them as I have app store apps.

Yes! I'm crossing my fingers that it's released within the next couple of weeks. My patience has been difficult thus far, but sweet will be the day when I can fully exploit my new toy :D

Damn I want ASAP !!!!!!!!!!........LOL

What twitter client is that in the picture?

I hope so. Good luck to the team, love from the UK

Just got my iPad yesterday and I can't stop thinking about all I am going to do when the jailbreak comes out. Y.E.S.

Me too! I want that jailbreak sooo bad!

I've been looking for this jailbreak since I picked up my iPad last weekend.

I have had my ipad2 since day 1 and I have been waiting on the jailbreak ,hope it happens with in the Nxt couple of wks...

I can't wait to get my hands on that jailbreak! I was so disappointed when it wasn't included in the 4.3.1 jailbreak realease! You gotta love those guys!!

I think I might possibly be holding the first iPad 2 to arrive in Afghanistan. :-) I paypal'd a friend the money so he could stand in line on launch day, and he mailed it to me the following Monday. Now THAT'S a good friend!

And I can't wait for this jailbreak to be released!

So been waiting since the launch. It's crying for freedom!

Here's a pic of a jb on iPad 2:http://yfrog.com/z/h2vharmj

I believe that was the photo of Comex's Ipad2 4.3 JB which was patched by apple in 4.3.1.

You guys are gonna be dissapointed I feel, all these sites have posted that1 tweet which implies it's about ready, if they'd posted his other tweet they'd see the jailbreak is in the early stages and when he was asked if it would be released soon he said "NO"

It's not imminent at all, see: http://twitter.com/#!/p0sixninja/status/56544153475088384

Or rather http://twitter.com/p0sixninja/status/56544153475088384

I'd put my money on comex releasing an iPad 2 jb before anyone else. Sadly, IMO its more likely to be months than days or weeks.

Question: What percentage of people jailbreak to steal apps? I can kind of see a reason to JB a phone but the only reason to JB an iPad is if you want free apps IMO.

The Federal Government has deemed "Jailbreaking" legal, and obviously they have thought of everything that stems off of that, otherwise they would not discriminate against people who use programs such as "Frostwire" or "Limewire". So go ahead. Jailbreak it. Steal apps. It's your iPad and you can do what you want to it. I know I will.

Jailbreaking is not about stealing apps. Yes there are some tar do that but there is a whole store of apps to be purchased that can only be gotten through jailbreak. Don't equate jailbreak with stealing. I'm currently not jailbroken but believe people should have the right to program their device the way they want and the statements about jailbreak being only for stealing apps is an unfair description of the jailbreak community.

I just want to use iprotect to be able to lock any app that I choose. I pay for apps. I don't steal. Anybody stealing apps should have their iPad or iPhone dropped off a building!

they can drop my ipad of a building then i will just sent it in for warranty at squaretrade

Patiently waiting...just got my ipad2 last week. Can't wait to add tweaks n what not, it feels so bare without the JB

I've had my iPad going on three weeks ago and I still find myself using my iPad 1 because of the jailbreak issue.
Apple's release of iOS 4.3.1 two days early was obviously designed to throw jailbreakers off, so with the imminent release of iOS 4.3.2, might Apple pull the same trick and beat p0sixninja to the punch?

Correction: First line should read "I've had my iPad 2 going on three weeks..." duh me. ;)

If they do come right out with 4.3.2.... I won't upgrade... 4.3.1 is causing all my apps to crash

I just ordered the iPad 2. Great to see them working on it. I will do the same thing I do with my phone. I will download the hacked app to see if it any good. If I like it I buy it. Keeps the good apps coming and I don't get stuck with the crappy ons.

I jailbreak for the better usability of the device. SBSettings, BiteSMS, Multiflow, Backgrounder, etc, etc. Put those apps on a native iPhone/iPad and jailbreaking will be unneeded. My iPad 2 would flow much nicer once it can be jailbroken to operate like my iPhone 4. As for stealing apps, please, why spend hundreds of dollars on these devices in order to steal a few dollars in apps! Developers who do good work deserve to be paid for a skill myself and others do not have.

if you guys want to jailbreake your ipad or iphone you can check this website. it's a amazing site just check it out guys and also Download iPhone cracked apps

Like I've been saying I like apples but I love pineapples. They better release some p0ison or make it snow pretty soon cuz I'm going crazy with these ordinary apples.

Hey, this was new to me. Thanks for this great information!
Thank you for signing up to iMore. You will receive a verification email shortly.
There was a problem. Please refresh the page and try again.