iPad 2 tourist photoshop giveaway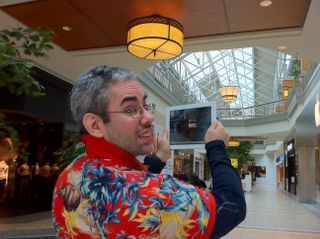 Was Rene out filming something "funny" for TiPb TV, or did he just get caught being a big, dorky iPad tourist? The always awesome @richardlai and @philnickinson clearly think the way I do -- dorky iPad tourist and offer some photoshop evidence to prove it (see after the break).
Which made me wonder -- how many more places could our terrific TiPb nation find a photoshopped Rene? Since a contest is likely the best way to find out, here it is!
Photoshop the picture of Rene and his dorkalisious Hawaiian shirt and tweet us the picture (make sure you include @TiPb and the hashtag #ipadtourist). The funnier the time, place or situation the better! (But keep it family friendly, please!)
Need some inspiration? Here's @richardlai:
And @philnickinson:
Prize: Our favorite photoshop wins an iPad tourist pack courtesy of store.imore.com, including an Aquapac waterproof case for iPad to keep it safe on the beach, and a Motorola MOTOROKR S305 Bluetooth Stereo Headset to keep you rocking on the road!
(And @reneritchie has even offered to give the Hawaiian shirt as a special bonus prize -- if you want it that is!)
A few more in the gallery below. Can you do better? Can you do the best?
[gallery columns="2"]
Get more iMore in your inbox!
Our news, reviews, opinions, and easy to follow guides can turn any iPhone owner into an Apple aficionado
Senior Editor at iMore and a practicing therapist specializing in stress and anxiety. She speaks everywhere from conferences to corporations, co-host of Vector and Isometric podcasts, follow her on Twitter @Georgia_Dow and check out her series at anxiety-videos.com.